Naben Ruthnum wins 2013 Writers' Trust of Canada/McClelland & Stewart Journey Prize
On November 20th, at the Writers' Trust of Canada Awards in Toronto, Malahat contributor Naben Ruthnum won the 2013 Writers' Trust of Canada/McClelland & Stewart Journey Prize for his short story, "Cinema Rex." Naben received a cash prize of $10,000 for his win. This piece also won the Malahat's 2012 Novella Prize, and appeared in our summer 2012 Issue #179.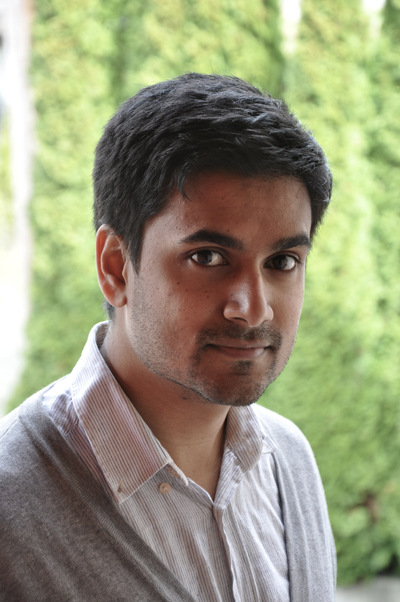 This year's jury was composed of Miranda Hill, Mark Medley, and Russell Wangersky. Here's what they had to say about "Cinema Rex": [It's] as rich and visual as the films at its centre, which play on the new movie screen in one neighbourhood of Mauritius in the 1950s. The author beautifully draws the connections between the changing community, inundated by Hollywood and after-school English lessons, and a season of vital shifts for Vic, Renga, and Silva, three friends transitioning out of boyhood. Full of heady sensory details - the smells of vendors' carts, the sight and feel of the dirt accumulated on fingers, the power of profanity in another language - Naben Ruthnum's deft observations of family and class interactions create an entire world of established histories and hierarchies, even though the reader is only privy to a sliver of these stories. As if this were not enough, Ruthnum has performed a further narrative feat, by telling a second, equally compelling, story alongside the main narrative. Through a series of footnotes, Ruthnum vaults the reader into the future, to the youth and middle age of these three men, and their continuing connection to film and the escapes it promises.
This is the seventh time that a Malahat author has won the Journey Prize in its 25-year history, more often than any other Canadian literary magazine. Past Malahat winners include Devon Code, Cynthia Flood, and Yann Martel.
Naben lives and writes in Toronto, and has previously published in RiddleFence, Joyland, QWERTY, and Ellery Queen's Mystery Magazine. His pseudonym, Nathan Ripley, recently completed a thriller called Scrapbook. He's currently working on a novel based on "Cinema Rex."
Kris Bertin recently spoke with Naben about his Journey Prize nomination.
Read the interview here.
If you want to read "Cinema Rex," you can purchase a copy of Issue 179 from our website ($11.95 CAD plus applicable postage).