Sina Queyras Nominated for a Pushcart Prize
The Malahat Review congratulates Sina Queyras, whose poem "Like a Jet" (Issue 184, Autumn 2013) has been shortlisted for a Pushcart Prize.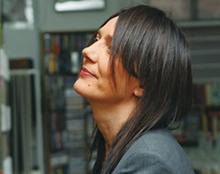 "Like a Jet," an elegy in seven parts—if not exactly a crown of sonnets, then a heart-rending innovation of the form—will appear in The Pushcart Prize XXXIX: The Best of the Small Presses in 2015. Through its annual anthology series founded in 1976, New York-based Pushcart Press aims "to recognize and celebrate the best work in the rapidly expanding independent publishing movement." Over the years, the Pushcart Prize "has honored the art of thousands of writers and hundreds of presses. Each edition features reprints of work by about sixty authors from dozens of presses." We are therefore proud that Sina Queyras and The Malahat Review have been counted among this select number.
Previous Malahat authors Robert Bringhurst and Seán Virgo respectively appeared in the third Pushcart Prize anthology in 1979 for "The Stonecutter's Horses" and "Deathwatch at Skidegate Narrows."  Both poems originally appeared in Issue 45, January 1978, the first of Robin Skelton's three landmark West Coast Renaissance issues.
Sina Queyras' "Like a Jet" is also nominated in the poetry category for the 37th annual National Magazine Awards, which will be announced in Toronto on June 6, 2014.
We congratulate Sina Queyras on the continued success of her groundbreaking, remarkable work.