Job Posting - deadline July 3, 2015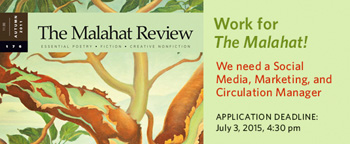 The Malahat Review requires a Social Media, Marketing and Circulation Manager to work 25 hours per week beginning September 2015, permanent placement (two weeks' training in late August, 10 hours/week). Reporting to the Editor and working with the Assistant Editor, the successful candidate is responsible for all modes of outreach to current and potential readers, the editing of the magazine's e-newsletter, Malahat lite, the management of the Malahat subscription database, and the processing of all circulation-related and other revenue-related transactions. 
Duties
Social Media
Maintain and expand Malahat's social-media presence, including:

Keeping Malahat Facebook page current
Keeping Malahat Twitter feed active
Expanding Malahat's array of social-media tools
Designing and implementing social-media campaigns and contests
Working with the webmaster, keep the Malahat website current by:

Assuring the current and forthcoming issue pages are up to date
Posting news about Malahat issues, contributors, contests, theme issues, calls for submission, achievements, etc.
Posting all Malahat interviews and book reviews
Assuring all pages are up to date and correct
Creating new pages for the website as required
Working with the webmaster, create and maintain Malahat-related WordPress sites
Marketing
Write, edit, lay out and circulate the monthly e-newsletter
Solicit and edit content, including interviews with contest judges, contest and award winners, Malahat contributors, and Malahat partners (bookstore owners, etc.)
Solicit, place, and track all paid ads that appear in each of the four annual issues, maintaining existing while securing new advertisers
Solicit, place, and track all print and web exchange ads used to promote Malahat contests, events, and calls for submissions
Solicit, place, and track all non-contest-related, print and exchange web ads
Promote Malahat's four annual contests via email announcements, Twitter, Facebook, Malahat lite, and the Malahat website
Place contest listings on external websites and in writers' newsletters, etc.
Promote WordsThaw, the Malahat's annual spring symposium, to Victoria, Vancouver Island, and Lower Mainland target markets
Maintain the WordsThaw WordPress site
Maintain and expand the Malahat emailing list
Coordinate Malahat's participation in marketing initiatives with outside groups
Coordinate Malahat's collaborations with other groups, including Planet Earth Poetry, Victoria Writers Festival, Word on the Street, Magazines Association of B.C, and Magazines Canada
Coordinate and promote other Malahat events
Conduct surveys of contest entrants
Conduct subscriber surveys
Circulation
Circulation

Maintain and update the subscriptions database, including the processing and logging of:

Subscriptions from individuals;
Subscriptions from libraries;
Subscriptions from Friends of the Malahat;
entries to Malahat's four annual contests

Calculate circulation and prepare the subscriber database for each mail-out
Coordinate on-campus distribution
Coordinate the renewals program of mailed and emailed notices
Assist in the development and administration of subscription drives
Process and fill single-copy and bookstore orders
Respond to subscriber, subscription-agent, and other circulation-related and contest-related queries
Compile circulation and contest-entry reports quarterly, or as required
Accounting

Enter all income into the Malahat's financial spreadsheet
Prepare financial deposits for all income received as cash, cheques, through the e-commerce site, following UVic Procedures
Manage invoicing for subscriptions, advertising, and single-copy sales
Manage the sales at Malahat events
Maintain accurate records of all Malahat financial transactions
Other
Supervise Malahat's work/study student for marketing
Assist in maintaining Malahat's Submittable site
Assist with the proofing of each of Malahat's quarterly issues
Attend and prepare for staff meetings
Assist the editor and assistant editor as required
Qualifications
The ideal candidate will possess a good mix of the following:
Essential:
Excellent computer skills and ease at working in an electronic environment.
Excellent English-language and editorial skills.
Excellent communication and interpersonal skills.
Demonstrated experience at maintaining websites.
Demonstrated experience using spreadsheets.
Demonstrated experience at learning new computer programs.
Demonstrated social-media skills.
Familiarity with Office Suite (Word and Excel) in a Windows environment.
Familiarity with Dreamweaver and Photoshop (and other components of Adobe Creative Suite).
Familiarity with WordPress.
Preferred:
Experience working in a magazine, arts-organization, or other office environment.
Experience at marketing and promotion.
Knowledge of contemporary Canadian literary culture.
Hours and Rate of Pay: This is a permanent, part-time out-of-service (non-unionized) position. 25 hours/week at $16.75/hour, plus 4% vacation pay, no benefits.
Send Resumes and queries to: malahat@uvic.ca
Closing Date:  July 3, 2015, 4:30 p.m.
Interviews scheduled: week of July 20, 2015
Successful Candidate notified by July 31, 2015
Training begins (10 hours/week): week of August 10, 2015,
or week of August 17, 2015 (negotiable)
Full hours begin: week of September 1, 2015, or week of September 8, 2015 (negotiable)