Far Horizons Award for Poetry
2012 Winner
The Malahat Review congratulates Kayla Czaga, of Vancouver, whose poem, "gertrude stein loves a girl " has won our 2012 Far Horizons Award for Poetry.
Czaga's entry was selected from 509 submitted poems by our final judge, Mary Dalton, of Saint John's, Newfoundland. Of Czaga's poem, Dalton says, "The pleasures of "gertrude stein loves a girl" are multiple. Drawing on the syntactical disruptions and linguistic play of modernist Stein, evoking a whole world in its small compass, this set of five short pieces riffs astutely on the concept of girlhood: the light and the dark. Playful, sprightly, shifting among tones of exuberance, irony, and sorrow, the poem fuses subject and form. Both meditation and enactment, it fizzes and twists in its trampolining cadences, its deft (and often funny) repetitions and turns, its sometimes startling diction. It creates a sense of irrepressible energy, even as the lineation suggests restriction. We are made to experience—even as readers of a very different exploration of energy and restriction, Charlotte Perkins Gilman's "The Yellow Wallpaper" are made to—the endless energy and the imprisonment of Girl."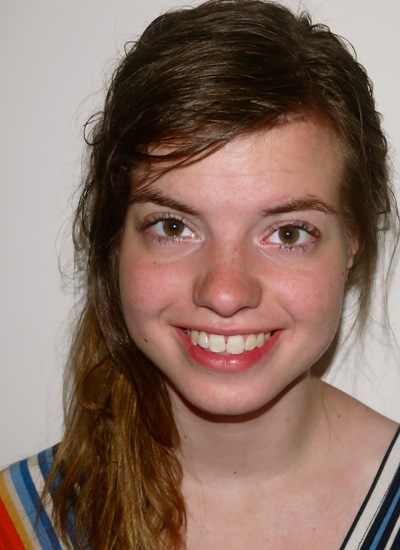 Kayla Czaga, winner of the 2012 Far Horizons Award for Poetry!
"gertrude stein loves a girl" will appear in our Winter 2012 issue, #181, which will come out at the end of January, 2013. Czaga received $1000 in prize money.
Read an interview with Kayla Czaga on her recent win.
In 2008, Kayla Czaga received a Poetry in Transit poster from Patrick Lane for winning the "Best Bad Haiku Contest" in her second-year poetry workshop.  She graduated in 2011 with a BA in Creative Writing and English from the University of Victoria.  Her poems "Biography of my Father," and "Proposal for the Palace of Soviets (1933)" both won Editor's Choice awards in ARC Poetry Magazine's 2012 Poem of the Year Contest.  In September 2012, she will begin her MFA at UBC. 
Congratulations to the finalists for the 2012 Far Horizons Award for Poetry: Susan Braley, Sandra Davies, Alyda Faber, Jennifer Frebold Lee, Rhonda Ganz, Laurie D Graham, dee Hobsbawn-Smith, Steve Lautermilch, Niquae McIntosh, Ross McKie, Cara-Lyn Morgan, Geoffrey Nilson, Kerry-Lee Powell, Linda K. Thompson, and Sarah B. Wiseman.
The Malahat Review's Far Horizons Award for Poetry runs every other year, alternating with our Far Horizons Award for Short Fiction.