2012 Novella Contest Winner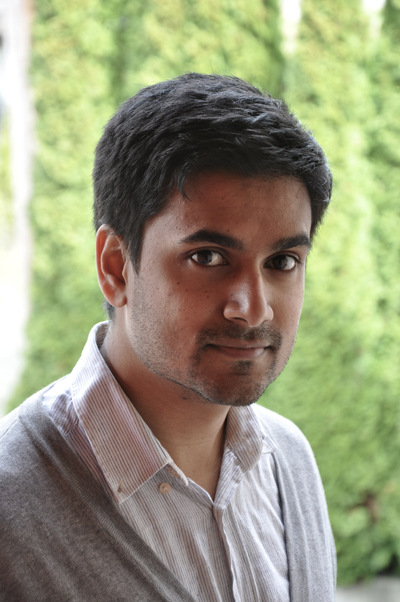 The Malahat Review congratulates Naben Ruthnum, of Vancouver, B. C., whose novella, "Cinema Rex" has won our 2012 Novella Prize.
Naben's entry was chosen from 215 submissions by our three final judges, Terence Young (Victoria), Valerie Compton (Halifax), and Gabriella Goliger (Ottawa). He was awarded $1500 CAD in prize money.
Of "Cinema Rex," our judges said: "[it] incorporates footnotes to explore a different kind of omniscience. The story, set in exotic Mauritius, follows three adolescent boys on the opening day of the town's newest theatre, Cinema Rex. They skip school when they discover their teacher slumped over on his desk in a drunken sleep, and from there events build to the evening's entertainment, a translated version of 'The Night of the Hunter.' Throughout, the footnotes move us forward in time to the boys' adult lives, creating a kind of sympathetic cosmic irony. The language of 'Cinema Rex' is precise, the tone engaging, and the characters compelling. It has an unstoppable momentum, often surprising details and vivid dialogue. This is a novella that has been pared to essentials, with every element working together."
Naben Ruthnum is currently based in Vancouver, and has recently completed a thriller set in Seattle. He writes short stories and is currently collaborating on a comic with artist Mark Hall-Patch.  
Terence Young teaches English and writing at St. Michaels University School in Victoria, B.C., and co-founded The Claremont Review, a literary journal for young writers. He has published five books: The Island in Winter (Signal Editions, 1999), Rhymes With Useless (Raincoast, 2000), After Goodlake's (Raincoast, 2004), Moving Day (Signature Editions, 2006), and The End of the Ice Age (Biblioasis, 2010). In 2008, he was awarded the Prime Minister's Award for Teaching Excellence.
Valerie Compton is the author of a novel, Tide Road, (Goose Lane Editions, 2011) and numerous short stories. She was born on Prince Edward Island and now lives in Halifax.
Gabriella Goliger's new novel, Girl Unwrapped, won the 2011 Ottawa Book Award for fiction. It was chosen by readers of Ottawa Xpress newspaper as best book by a local author for 2011. Goliger's first book, Song of Ascent, won the 2001 Upper Canada Writer's Craft Award. She was co-winner of the 1997 Journey Prize for short fiction, was a finalist for this prize in 1995 and received the Prism International award in 1993. She has been published in a number of journals and anthologies including Best New American Voices 2000 and Contemporary Jewish Writing in Canada. She has a B.A. from McGill University and an M.A. in English literature from the Hebrew University of Jerusalem. Born in Italy, Gabriella grew up in Montreal and has made Ottawa, Ontario, her home for the last 32 years, while wintering for the last five in Victoria, B.C.
Read an interview with Naben Ruthnum.
We would also like to congratulate the 2010 Novella Prize finalists:
Kris Bertin, "Fault Lines"; Dan Mancilla, "Milwaukee Road"; Matthew Mott, "17 Reasons Why I Rinse"; and Heather Tucker, "Time Flies."
The Malahat Review's Novella Prize runs every other year, alternating with our Long Poem Prize. The deadline for the next Novella Prize is February 1, 2014 (postmark date).