I Found It At The Movies

The Victoria Premiere!
Tuesday, September 23, 2014, at 7 pm
The Fairfield Market
1275 Oscar Street, Victoria
(near Moss and Fairfield)
Admission: $4 (optional) at the door
Co-sponsored by the Victoria Writers Festival and The Malahat Review
Join Ruth Roach Pierson and local contributors at the Victoria launch of I Found It at the Movies, her anthology of poems by 116 cinemastes, published in 2014 by Guernica Editions.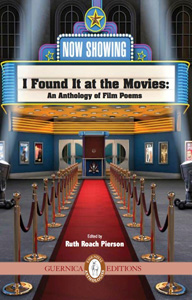 "Because the experience of movies is so widely shared and so deeply personal, the poems in this wonderful anthology—hilarious, poignant, thoughtful, shrewd and romantic—speak vitally and openly to all of us."
—John Steffler
Ruth and Victoria-area poets Maleea Acker, John Barton, Marilyn Bowering, Michael Kenyon, Marlene Grand Maitre, Shelley Leedahl, Mitch Parry, and Patricia Young will read poems that splice together diverse and diverting takes on the cinematic experience. Emcee Julie Paul will see to it that nothing—whether bio-pic or drama, horror of chick-flick—is left on the editing floor.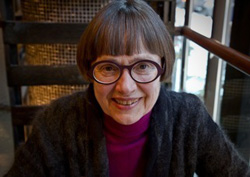 Ruth Roach Pierson has published three books of poetry, Where No Window Was (BuschekBooks, 2002), Governor-General Award finalist Aide-Mémoire (BuschekBooks, 2007), and Contrary (Tightrope, 2011). Her work has appeared in magazines across Canada, including Arc, Event, The Fiddlehead, Literary Review of Canada, The Malahat Review, Room, and Vallum. She lives in Toronto.