Art Room: Jay Ruzesky in Conversation with Manahil Bandukwala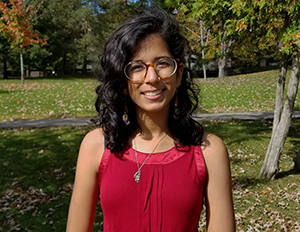 Manahil Bandukwala, whose poem "To ride an art horse" appears in The Malahat Review's spring 2020 issue #210, discusses recognition, fighting against self-censoring, and the personal experience that inspired her poem in her Q&A with Malahat Review poetry board member Jay Ruzesky.
Manahil Bandukwala is a Pakistani writer, editor, and visual artist from Karachi and currently based in Ottawa. She is the author of two chapbooks, Paper Doll (2019) and Pipe Rose (2018). She is on the editorial team of Canthius, a feminist literary magazine. She was longlisted for the 2019 CBC Poetry Prize, was the 2019 winner of Room magazine's Emerging Writer Award. She is co-lead of Reth aur Reghistan, a literary-visual arts project that explores folklore from Pakistan, carried out alongside her sister, Nimra Bandukwala. See more at sculpturalstorytelling.com.

Your poem, "To ride an art horse," is the first poem in The Malahat Review's issue 210 (spring 2020) and I think we're lucky to have it. The poem was longlisted for the 2019 CBC Poetry Prize. Could you say something about what "recognition" means to you as a poet—is it important to be on that prize list or to publish poems in magazines you care about?
Recognition is an interesting word to consider. I definitely feel as though I've gotten more attention since being on the CBC Poetry Prize longlist. For example, CBC featured my online reading for rob mclennan's periodicities journal as part of their digital readings during Covid series. But that was also the first (and so far, only) prize I've paid to enter. While being on that prize list can help, getting on multiple prize lists can be somewhat inaccessible. But for magazines, charging entry fees for prizes is a way to generate subscriptions. Working behind the scenes on contests for both Arc Poetry Magazine and Canthius has shown how important those subscriptions are for a magazine's survival.

This past year, I've gotten more work published in "dream" magazines, including The Malahat Review! Those recognitions have been super meaningful to me—seeing magazines that I really admire receive my work with so much enthusiasm is wonderful. I still have quite a bit of imposter syndrome when it comes to my writing, so that validation and recognition is a nice surprise to me.

In January, I published a piece I co-authored with Sanna Wani in Briarpatch. This is probably one of my favourite pieces of writing I've done to date—it's a long poem in the form of letters that we wrote around the time India scrapped Article 370, which gave autonomous status to Kashmir. Seeing people still reading and resonating with it until now means a lot. Poetry can have a very short lifespan, so seeing this piece that holds such a deep connection to me live beyond a brief moment is unreal.
"To ride an art horse" uses art as a kind of rebellion. You've said that part of the inspiration for the poem is a memory about art class in Karachi and how the class was one place where there was a relaxation of some of the rules about being "proper." Did you find back then a place in art and in writing where you could be yourself more easily?
I wasn't doing much writing then, but I did find a place in art to be more myself! I will say, the O Level art exam definitely was not the most conducive to creative freedom because of how it was structured, but I greatly appreciate my art teachers in school for how they curated the classroom space. Keeping a proper school uniform—ironed kameez, stark white dupatta, neatly tied-back hair—was monitored a lot in general in my school. The art room was a place where we could let some of that rigidity go, where how we dressed didn't matter as much as the art we made. As a 16-year-old who constantly got told off because of messy hair or a wrinkled uniform, having that art room space was greatly freeing.
The poem becomes sexually suggestive—beginning with the way one straddles an art horse, to the way the students are taught "to curve / our fingers around / pencils / paintbrushes / charcoal sticks." Then there is a boy who sees a drawing of a squash and asks, "is that a dildo?" That emerging sexuality is part of the rebellion, and I think you're suggesting something more important about the young women gaining sexual agency. I wonder, though, if in some way you still had to wrestle with the sense of "properness" when you were writing the poem?
Absolutely! I really had to work to not self-censor in the first draft that was just a scribble in my notebook. And then getting from there to putting that free-write into poem form was a wrestle with propriety. It was the first time I've let myself be so sexually suggestive poetically. The actual phrases like "is that a dildo?" were all things that people actually said, so those came from memory and experience. Putting those into the poem was very nerve-wracking, even when it was a draft for just me to read. But if something like straddling an art horse is sexually suggestive, I think that says more about how our bodies were sexualized at a young age rather than the poem containing actual sexual content.

That pressure to keep this sense of properness followed me throughout the poem process. I was nervous about just sharing the poem with my writing friends in Ottawa. One of my friends, poet and musician Liam Burke, said to me, "this is one of the best poems you've ever written." That encouragement really stuck with me. It was exactly what I needed to push myself to submit the poem to the CBC Poetry Prize, innuendos and all.

I submitted the poem to the contest and pushed it out of my mind for a few months. When I got the email saying it had been longlisted, those anxieties about properness popped up again. I didn't not want to share the longlist news on my Facebook, but I was also worried about how it would come across to relatives and such. I was afraid that instead of the anger and rebellion that forms a lot of the poem, it would just come across as sexually inappropriate. But that didn't happen, and I think I'm getting better at not censoring myself when it comes to crossing those lines of what is considered proper.
Cultural politics and feminist politics are a part of your poem. In terms of culture, there is, for example, the use of specific language rooted in the culture of Pakistan. In feminist terms, the young women are doing more than discovering themselves as sexual beings; they are taking control of their sexuality—especially in the powerful final image. Is a political motive a deliberate part of your poetics, or do those ideas emerge in a more subtle way from your personal sensibility?
I would say a mixture of both. One of the starting points for "To ride an art horse" was the personal experience of sitting in an art room. But the other was an article I read on how women in Pakistan typically sit perched on the edge of motorcycles despite sitting straddled across one being the safer way to sit. These two separate trains of thought converged in the poem. Including the political aspects of sexuality and control was a deliberate move, but I also reflected a fair bit on personal experience. What emerged was a rejection of sexualization from different fronts as a way to take back personal agency.

As someone who grew up in Karachi and came to North America as an adult, I'm always considering the differences in how feminist politics manifest in North America versus Pakistan. Priorities and ways of reclaiming control are different, and that's what I wanted to explore with this poem as well. That art room space was only a fraction of where I spent my time as a 15-/16-year-old, but that space really stuck with me. And at the end of the day, the personal is politicized and so it's difficult to say whether those choices are deliberate or subtle.

You're involved with art quite directly. One of your current projects is called Reth aur Reghistan and is a collaboration with your sister, Nimra. Could you tell us a little about that project and what inspired you two?

Reth aur Reghistan is an exploration of Pakistani folklore, interpreted through poetry and sculpture. We wanted to explore stories in and around the area where we grew up. One of the most fascinating things about the stories of Karachi and Sindh is that there's a lot of archaeological evidence to suggest these stories might have happened, like graves of protagonists and architectural remains. Some of the stories are from over a thousand years ago, but we found a lot of themes still resonate with the present day. Folklore and storytelling hold this magic of travelling across communities and down through generations, and this is how they've survived for so many centuries.

We're currently finishing up a manuscript of poetry and photographs of sculptures, and aim to have a final draft ready to submit to publishers by the end of the summer. Another goal for us is to conduct workshops about storytelling and folklore. These were originally intended to be in person, but because of the current situation, will be online. Our aim is to do these workshops in June and July.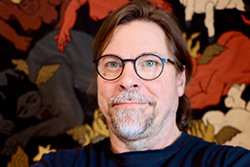 Jay Ruzesky
* * * * * * * *