Our Back Pages
Issue #171
Issue Date: Summer 2010
Editor: John Barton
Pages: 110
Number of contributors: 26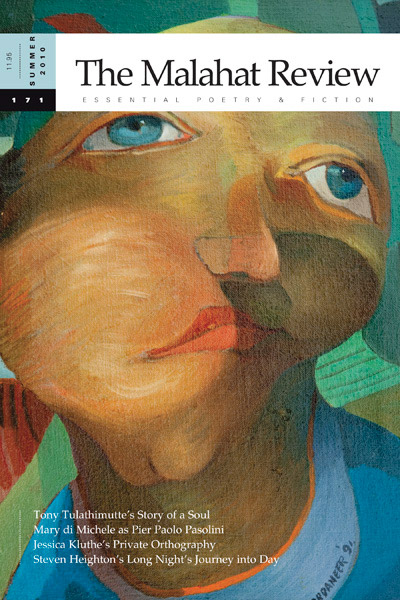 "Why did the most correct word have to be so unsuitable? Why did it sometimes feel wrong?" In Tony Tulathimutte's "Brains" – the winner of Malahat's 2010 Novella Prize – the central frustration of the protagonist is the correctness of language. Diana, a neurosurgery resident, adheres to a more rigorous logic of language than most. She expresses a wish for stupidity and intelligence to "[pass] through one another like waves at different frequencies," so that the "pandemonium of incorrectness and everywhere half-truth and agreed-upon falsehood…would appear only as turbulent, benign silence." Her commitment to dualisms – stupidity and intelligence, true and false, brain and body – only begins to disintegrate when Diana wonders whether she herself has communicated her desires poorly.
In her creative nonfiction piece "Always," Jessica Kluthe demonstrates the way in which writing can constitute a life. Her childhood is a collection of intentional mis-hearings in response to moments of familial rupture. Upon witnessing her father hit her mother, Kluthe writes: "My brother Jack yelled outside to our neighbour, 'Darren's gone psycho.' I switched all the words around in my head. Someone Stole My Motorcycle." Language intervenes. Sonofabitch becomes Sunonthebeach. Life can be hard; sometimes language can soften it.
Along with the prose, there are many poems to love in this issue. In Steven Heighton's "Jetlag," air travel is disorienting but also an opportunity to "urge to mind moments that lodge you / deep in a life." In "At the Gravel Pit / Without a Word" Mary di Michele imagines Pier Paolo Pasolini's boyhood desire. Faisal Siddiqui describes learning the ghazal; and Aislinn Hunter lessens the miracle of a new love the longer she stays. In spite of its failings, language is, at its core, an instrument of interaction and exploration—with other people, yes, but with other things as well: in Suzanne Robertson's "Poem for Goodnight," even a cockroach is noteworthy.
—Alana Friend Lettner