Our Back Pages
Issue #172
Issue Date: Fall 2010
Editor: John Barton
Pages: 96
Number of contributors: 23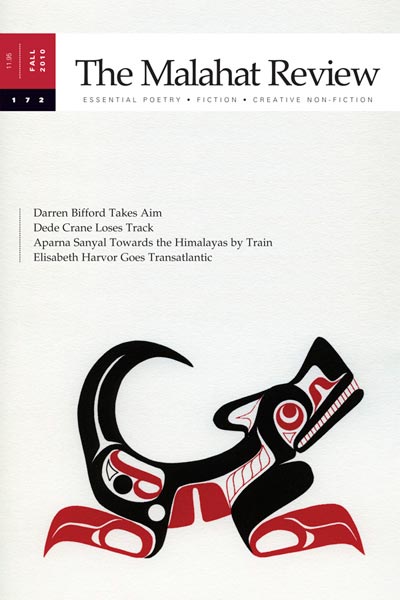 I don't want to spark an argument about what creative nonfiction is. Well, that's not really true; feel free to duke it out—whatever it is you think is worth fighting for. As a literary genre, I suggest (not argue) that it is only in the early years of the twenty-first century that creative nonfiction has come to be seen comfortably as a peer among other literary genres: poetry, fiction, creative nonfiction. The publication of creative nonfiction among the poems and stories in a magazine like Malahat is one of the traits that cements the literary quality of the form. There is probably a larger metaphor here that has something to do with the acceptance of voices and with the idea of truth in our times, but I'll leave that alone.
By the date of issue 172, creative nonfiction had become a Malahat staple complete with its own editorial board. "Shadows on a Night Train" by Aparna Sanyal is that board's selection and the piece is an example of how and why creative nonfiction fits so well with the other literary forms. It is the story of the writer's experience of coming to terms with otherness—having come from Canada to live in India for a few months. She is in love "with Indian culture, cuisine, and scenery," but admits from the beginning that she has not been able to adjust to "Indian chaos, apathy, and dirt." The story uses vivid imagery to describe the author's experience on an Indian train and it raises profound ideas about what it means to belong.
Darren Bifford's poem, "Wolf Hunter" won the Far Horizons Award and puts the reader, rather uncomfortably, and perhaps too well, into the mind of someone flying over the Arctic tundra about to take a shot. Patricia Young has a batch of poems that explore the opposite perspective—love through the eyes of the animal kingdom—including a poem from the point of view of an angler fish so ugly it is "the loneliest heart on earth." Ruth Roach Pierson's ekphrastic poem, "Keep Away," speaks to a Jeff Wall photo, and Brenda Schmidt somehow manages to find beauty in a stroke suffered by a loved one in which "The facial droop resembles a hillside" where she filled "her pail with saskatoons." Steve Noyes' poem "The Fire Sermon" will come in handy in future summers as global warming continues to set us alight. There are poems by Shane Book, Caroline Clark, Asa Boxer, Timothy Liu, and Chris Banks and others.
Fiction in this issue includes a story by Elisabeth Harvor: "You Must Never Go Down to the End of the Town" explores a different sort of terrorism in the form of an unaccompanied minor seated with a childless couple on a long flight. Dede Crane's story, "The Fall of Langue d'Occ" still seems timely as the baby boomer generation ages. It's about a woman's relationship with her elderly mother and the emotional wrestling we do to care for our parents over distance.
— Jay Ruzesky