Our Back Pages
Issue #174
Issue Date: Spring 2011
Editors: John Barton and Rhonda Batchelor
Pages: 110
Number of contributors: 28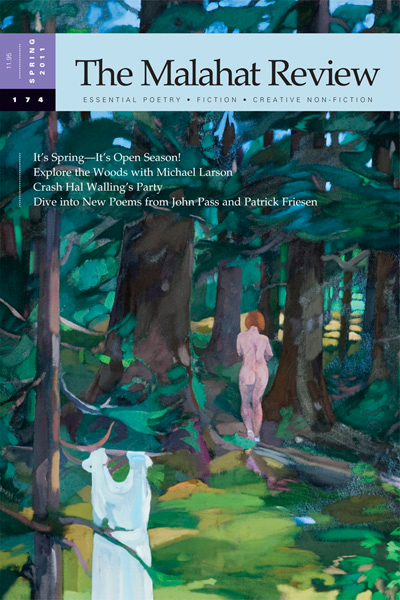 The late Glenn E. Howarth's painting, Female figure/nude walking into the woods, invites readers to follow and take a step into The Malahat Review's spring edition. Featuring twenty-one poems, three short stories, eight reviews, and two pieces of creative nonfiction, the issue begins with Michael Larson's subtle, but captivating story titled "The Woods." Readers emerge from Howarth's painted trees and into Larson's spring-fed pond. From there come six short poems that draw a world coloured in nature and complexity by award-winning Canadian poet and playwright Patrick Friesen. There are two notable creative nonfiction works, including the winner of The Malahat Review's Open Season Award for Nonfiction titled "How to Bury a Yellow Toque" by Jessica Hiemstra-van der Horst – a writer and visual artist with two full-length collections, Apologetic for Joy (Goose Lane Editions 2011) and Self Portrait Without a Bicycle (Biblioasis 2012). The other piece is "At War's End in Indonesia," by Toshiro Saito. This excerpt from Saito's memoir, translated by his granddaughter, Sally Ito, recounts his experiences at the close of WW II.
Philip Huynh, a lawyer and a writer living in Vancouver, and winner of the Open Season Award for Fiction, explores the personal life of a first-generation, and perhaps of a second-generation, Vietnamese immigrant in his story "The Investment on Dumfries Street," winner of the Open Season Award for Fiction.
The balance of prose and poems highlights both the literary art of the pieces, as well as The Malahat itself. There is an easy flow within the structure of the magazine; stepping out of one captivating prose piece, taking a breath with a few short but compelling poems, before engaging with another story. It's an elegant balance— a sort of dance—that never overwhelms the reader.
Other highlights in this issue includes Cynthia Woodman Kerkham's poem "Late Summer in Frederick Arm," winner of the Open Season poetry category that year, and poems by Deanna Young, Tim Bowling, and Anne Marie Todkill, The reviews section includes Corinna Chong's look at Rachel Wyatt's Letters to Omar, and Amy Reiswig's take on Stephen Scobie's The Measure of Paris.
—Michelle Ha