Our Back Pages
Issue #175
Issue Date: Summer 2011
Editors: John Barton and Rhonda Batchelor
Pages: 111
Number of contributors: 20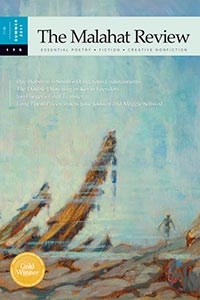 Although this is a summer edition of Malahat, the magazine has a misty sense of rain, of wetness. Beginning with Stella Langdale's bluely impressionist cover painting The Lost City of Atlantis, water seeps through many of the pieces; when one opens to a random page, it is likely that the word rain appears, or water, or ocean.
The centerpieces of the issue are the two winning poems of the 2011 Long Poem Prize. The first, "The Constant Gardener," by Maggie Schwed, is a journey through many stanzas and many forms; it is a celebration of gardens beginning in mythical Greece and leading to the poet's own family property. The other winning poem, "The Sun Estate," by Julie Joosten, is a meditation on a landscape, on the openness of a plains valley, and the light and water that run over it all. It is a poem that demonstrates the beauty of the open country, the land of living skies, where "The light shapes the quiet as morning. / The light settles a shawl over the frozen ground." The two poems are a combined thirty-two pages and, both in their length and quality, are noteworthy highlights of this issue.
"Double Drowning," creative nonfiction by Kevin Leenders, is a memorable read in that it conveys, first-hand, something that (thankfully) few people experience: a near-death drowning during a Navy training dive. Fiction in this issue includes strong stories by Andrea Routley, Dee Hobsbawn-Smith, and Jon Flieger. Acclaimed Chinese poet Yang Zi contributes two poems, while Jordan Mounteer and John Donlan each have a poem.
Reviewers consider poetry titles by Clea Roberts, Al Rempel, Cathy Ford, Jay Millar, and Bren Simmers. L. Chris Fox, Brandon McFarlane, and Aaron Shepard look at new books of fictionby Anne Purdue, David Krukoff, and Michael Boyce, and Nicholas Bradley weighs in on Making Waves: Reading B.C. and Pacific Northwest Literature, edited by Trevor Carolan.
—Quinn Stacey