Our Back Pages
Issue #178
Issue Date: Spring 2012
Editor: John Barton
Pages: 110
Number of contributors: 35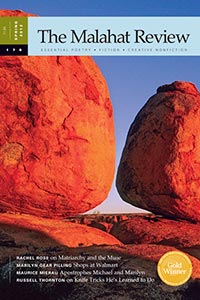 In addition to the usual crop of excellent poetry, Issue 178 features the winning entries of The Malahat Review's third-annual Open Season Awards. Albertan author and professor J. Mark Smith's "Landscape with petroleum plant and sewage treatment facility," (Poetry) paints an almost post-apocalyptic landscape of Edmonton, with a fusion of political tropes into notions of the everyday. Exploding with a powerful mix of wilderness and ideological imagery, Smith's poem reads like an art piece, the poem's title aptly reminiscent of how one might title a painting. While Smith's work radiates tension, the winning entry of the Fiction category, "Apiculture," stands out for its sense of innocence and clarity. Victoria-based writer and pianist Erin Frances Fisher adopts a child's perspective in navigating the story's central problem of a family crisis, bringing about a simple prose that introduces naiveté and wonderment to heavy subject matter. A simple, direct approach is similarly used to interpret brutality in Vancouver-based writer Tik Maynard's winning Creative Nonfiction piece "Buy BENSTON." Embedding a tale of strained Croatian ethnic relations within the unlikely worlds of tobacco and basketball, Maynard recounts this true story with an intimacy that underlines the narrative's subtle emotional points.
In addition to the above award-winning pieces, this issue also features one of the stories from renowned Canadian author Steven Heighton's collection, The Dead Are More Visible (2012). "OutTrip" begins in medias res, with the young protagonist (or "you," as Heighton narrates in the second-person) dried-out and starving, clamouring for his life in the middle of an unspecified desert. What follows is a series of the probable hallucinations of a delirious protagonist; a drug-dealer chases him, promises of streams come and go as mirages do and, at one point, he finds himself groping his way through a musty cave. The story treats readers to a kaleidoscope of imagery, whilst leaving them pondering upon the nature of reality.
The reviews section includes Roger Knox's look at Shane Neilson's account of descent into mental illness, Gunmetal Blue: A Memoir, and Shane Rhodes's critical reviews of Stephanie Bolster's A Page from the Wonders of Life on Earth and Calvin Wharton's The Song Collides.
Acclaimed nature photographer Courtney Milne's work, Devil's Marbles, Eggs of the Rainbow Serpent (1989) adorns the front cover, capturing the vivid tones of this issue.
—Kelsie Tan