Our Back Pages
Issue #181
Issue Date: Winter 2012
Editors: John Barton
Pages: 112
Number of contributors: 21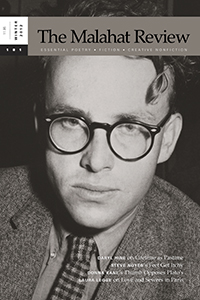 This issue is dedicated to the memory of Daryl Hine (1936-2012). Originally from British Columbia, Hine moved to Illinois where, for ten years, he was the editor of Poetry (Chicago), the venerable poetry magazine founded in 1912. In its early days it published many literary greats such as ee cummings, Gertrude Stein, Elizabeth Bishop, Wallace Stevens, and for the first time, Eliot's, "The Love Song of J. Alfred Prufrock." In his own poetry, Hine embraced traditional poetic forms—five of which are included in this issue.
Carla Funk's piece, "Returning," won the Constance Rooke Creative Nonfiction Prize. It is an exquisite non-elegy to her father, who remained on the verge of passing for several years.
Around him, the weather and seasons turn and return. Summer forest fires
hang a veil of smoke over the sky outside his window. Windstorms strip the
yellow birch and poplar leaves. In the morning, hoar frost slicks the road.
The ditches shift to snowbanks, the river's dark current to ice. The low sun
climbs a little higher. The earth begins to warm again… I sit in the room's
quietness and feel the strangeness of affection for a man whose death I've
always practiced without grief or love. But the more he returns to me, the
more I return to him.
Kayla Czaga won the Far Horizons Award for Poetry with her poem, "gertrude stein loves a girl," which was later included in her first collection, For Your Safety Please Hold On (Nightwood Editions, 2014). Danielle Janess interviewed her for Malahat's web interviews, asking, Why Gertrude Stein? Czaga replies that Stein was part of a project where she inhabited "literary personalities to imagine what they would say about girlhood. I felt Gertrude Stein's playful and experimental language lent itself well to the subject." Her second book, Dunk Tank (2019) just came out from House of Anansi Press.
Bill Gaston (finalist for the 2019 RBC Charles Taylor Prize for his memoir, Just Let Me Look at You), opens the issue with his story, "House Clowns." With classic Gaston menace, the story follows an older man to a rented cottage at a lake where he hopes to "find an old clarity," but instead discovers two young interlopers who claim they have also rented the cabin—although it is not clear how they got there, nor do they appear to have much in the way of supplies. Danger lurks throughout, but who should be afraid?
Two nonfiction reviews wind up the issue. Linda Rogers reviews Annabel Lyon's, Henry Kreisel Lecture (University of Alberta & Canadian Literature Centre, 2012), Imagining Ancient Women, where she explores the importance of emotional veracity. "By the end of each novel…not only have we become better acquainted with the world and time of the characters, but we've allowed the distance between our time and their times to shrink almost to irrelevance." In his review of Steven Heighton's, Workbook: memos & dispatches on writing (ECW Press, 2011), Michael Kenyon says it's like "eavesdropping" on Heighton's "inner dialogue"—the pieces pleased with themselves but not smug. He revels in the fact Heighton is "in love with literature and good writing."
Malahat is always "in love" with good writing!
—Lucy Bashford