Our Back Pages
Issue #188
Issue Date: Autumn 2014
Editors: John Barton
Pages: 160
Number of contributors: 68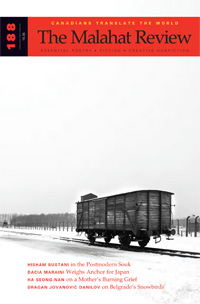 And now for something completely different.
Number 188 is a special issue subtitled "At Home in Translation: Canadians Translate the World." In his introduction, editor John Barton points us to an "other" Canadian Literature "deserving of our praise: the work of Canadian translators" who bring writers publishing in Korean or Danish or Arabic, regardless of their nationality, to an English speaking audience.
Jan Zwicky's poem, "Translation" is an appropriate opening for the issue and is an epigraph for the rest of the writing collected here. The poem celebrates the best part of the work of translation in which "some other mind / leaps up to meet your own." It is followed by a successful meeting of the minds in the form of Robert Melançon's poem, "Elegy Written in Notre-Dame-de-Grâce Park" translated from the French by Donald McGrath. The poem won Les poésies francophones du Canada: A Translation Prize.
I was at a literary reading several years ago given by a number of prominent west coast poets. One of the attendees was a student from Chile who asked why Canadian poets write so much about domestic life rather than about politics. Indeed, one of the features of this special issue on translation is that more of the writing is political and social in a more direct way than the offerings of a standard issue. "In the Boxcar," for example, is a story by Chava Rosenfard about a young girl's memory of being brought to Auschwitz by the Nazis. Katherine Luo's story, translated from the Chinese by Yvonne So, is called "Along Came a Brother from Home Town" and is about the narrator's half-brother whose long career of political dissent begins in the 1950s.
An exception to the darker tone of much of the fiction in the issue is an excerpt from Bruno Hébert's novel, It's Not Me I Swear. The main character is a charming kid named Léon who almost drowns in the kiddie pool in the back yard. He fears repercussions after he is saved, and when his mother brings out a kitchen knife he writes, "I knew drowning yourself was a big no-no, but it was only my first drowning." However, she uses the knife to eviscerate the pool, rather than the child, so things work out better than he expected.
Joyce Zhang's creative nonfiction piece is an act of translation twice removed. Her essay is called "`Too Much Happiness': On Translating Munro into Chinese" and is itself translated from the Chinese by Daniel Fried. The essay is about the joys of the intimacy of contact with Alice Munro's work, and also about what it means to be a translator of a Canadian writer few Chinese readers were aware of until her 2013 Nobel Prize.
The poetry in this issue is worthy of a separate study. Translators of poetry have to make decisions about the sound of the poem as it moves into a new language. Rhythm, rhyme, alliteration, echo, and cesura can be impossible to reproduce without sacrificing meaning, and being faithful to ideas often means letting go of the music of a poem. Some notable poems in the issue include Ulrikka S. Gernes' "You Need a Railway Station," Dorothea Grünzweig's "poem of finding and losing," Vinko Grubišić's "Letter," and Zulmira Ribeiro Tavares' "Surfer."
— Jay Ruzesky