Our Back Pages
Issue #193
Issue Date: December 2015
Editors: Lynne Van Luven, John Barton, and Rhonda Batchelor
Pages: 160
Number of contributors: 25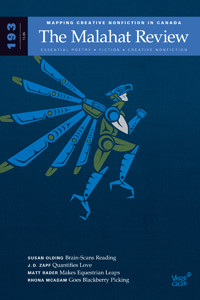 S'Klallam artist Jeffrey Veregge's Nothing Can Hold Us, a three-toned Salish formline design incorporating the Seattle Seahawks' icon, soars across the cover of Malahat 193, "Elusive Boundaries: Mapping Creative Nonfiction in Canada." Gathered under the variegated plumage of this issue's creative nonfiction theme are seventeen pieces that plumb personal and cultural depths with integrity. Like the cover, each component article traverses conflicting spaces, significances, histories, and perceptions. Exemplary of these tensions is Maria Tessa Liem's "Rice Cracker," an exploration of mixed-heritage identity and the lingering racism in our vernacular that won the 2015 Constance Rooke Creative Nonfiction Prize. Inured to the perception that her appearance dictates her person, Liem recounts a series of exchanges with her uncle in which, for once, race is unimportant.
Many pieces in this issue are similarly dedicated to plotting the contours of cultural narratives: in "The Bowl Game," Jesse Rae Archibald-Barber synthesizes his account of a modern-day road trip with surreal ancestral memories, calling up images from First Nations myths to imagine a time "before the dream of permanence"; Joann Dionne's "Seven Days in Tibet" cuts through reams of red tape to report the erasure of Tibetan belief and national identity in a world removed from our democratic reality; and Dale Lee Kwong deconstructs the Canadian national anthem to discuss patriotism founded on the exploitation of the Chinese minority who fought for their inclusion in our nation.
As per the nature of creative nonfiction, personal reflections figure just as large here as cultural considerations. In an excerpt from his self-addressed meditation on the ties that bind lived experience and narrative, The Lives of American Horses, Matt Rader makes associative leaps between a reigned-in reality principle and "feral" fiction. Kirsten Fogg's "The Space in Between" suspends past and present in the "mist of memory" to explore the permeable boundary that separates sleep and death. Defining mist as a medial and mediating form, she crafts a striking metaphor for grief. Marilyn Gear Pilling similarly addresses pain in "Her Majesty," in which her caring for the child of her late daughter's best friend renews a familiar longing for her lost genetic legacy. Pilling's prose is overflowing with colour and her ear is attuned to the beautiful—as, for example, when she hears in her young charge's laughter "intricately patterned notes wing across my kitchen—an oriole call."
At the back of the issue you'll find reviews of Helen Humphreys' The River and Armand Garnet Ruffo's Norval Morriseau: Man Changing into Thunderbird (an excerpt of which was featured in Malahat 189), among others.
—Chris Horne