Our Back Pages
Issue 28
Issue Date: October, 1973
Guest Editor: Robin Skelton
Pages: 148
Number of Contributors: 25
Like many of the first issues of The Malahat Review, Issue #28 takes the reader on a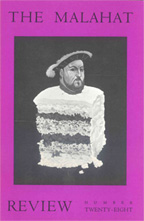 trip around the world. The translations included here are supported by Robin Skelton's comment about "promoting the sympathetic appreciation of contemporary literature in as many countries as possible." The "cultural exchanges" that occur in this particular issue allow the reader to experience Russian, Hungarian, Spanish, Rumanian, Dutch, and Irish writing.
The star of Issue #28 is certainly Anthony Kerrigan (1918–1991) who appears at three different points in the Table of Contents. First, he translates three poems for Hungarian poets who were awarded the Robert Graves Prize for Hungarian Verse. Following this, he translates three poems from Rumania. Finally Kerrigan offers an essay on Aidan Higgins (1927–), the Irish writer. To further the reader's knowledge on Higgins, a self-portrait of the writer is included, as well as a unique work of writing entitled "41 Latin Insinuations." In this work, Higgins presents 41 abstract observations on individuals such as Genghis Khan, and places such as Trastevere and Venice.
In the fiction department, H.E. Francis (1924–) translates "The Innocent" by Spanish writer Juan Jose Hernandez. This short story is a coming-of-age story with a shocking ending. On the nonfiction side, Felix J. Douma (1941–2008) translates the Dutch "From the 'Letter Found in a Bottle'" by Gerard-Kornelis van het Reve (1923–2006), which is part of a series of letters that were written to the readers of a Dutch periodical entitled Tirade. The letters contain philosophical musings and personal reflections on life away from home.
Other notable works include Andrei Voznesensky's poetry, translated by Canadian poet R. A. D. Ford, and Bjarne Tokerud's poetic "Medicinal Incantations of the Nahuas."
—Karyn Wisselink