A look inside issue 181, Winter 2012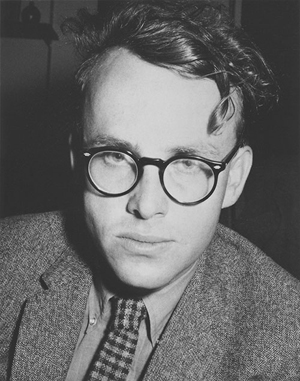 "Sleep and Waking"
by Daryl Hine

Slow to slip over the crumbling cliff of sleep,
I clutched at wood that would not bear my weight,
Root words which time derived from rude verb-stems,
Scrabbling at syntactic stratagems
For narrative. And yet I could not wait
For the moment when I fell asleep.
Read "Sleep and Waking" in full on our website.
Signs of Genius: John Barton in Conversation with Evan Jones about the Late Daryl Hine
JB: How did you come to know Daryl Hine? What was he like as a person?
EJ: In the early 2000s, Daryl had a website, a blog of sorts, on which he swore never to work with a publishing house again. The site was full of poems, translations, updated regularly, and there was a contact address if I remember rightly. In 2005, working with Richard Teleky on his poetry debut, The Hermit's Kiss, I asked if Daryl might possibly write a blurb for him. Richard had worked with Daryl when he was editor at Oxford University Press, publishing Daryl's Selected Poems in 1980. I had an address, I just needed a reason to write. Richard was hesitant— they'd lost touch. But I went for it. And a few weeks later I had a reply. Daryl sent a blurb via email, and at my urging promised to send manuscripts.
Where to buy issue #181? Galiano Island Books!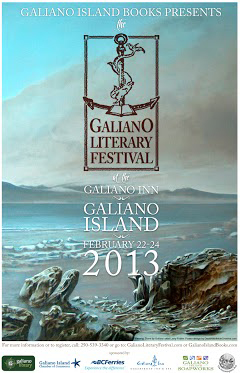 76 Madrona Drive
Galiano Island, BC
V0N 1P0
Malahat advisory board member, Linda Rogers, asked Lee Trentadue of Galiano Island Books, a proud carrier of The Malahat Review, a few questions about this island book store.
I lived near Duncan in the 70's and 80's and Volume One Bookshop was not just a store. It was our community centre. I wonder if, living on an island, you have made your business into a place where peoplegather, talk, and read and if you have become the island social directors as a result?
I believe that the bookstore has served this function on Galiano. It has been a place where many political discussions have occurred, often with people on opposing sides of questions related to local, national, and international issues of the day.
We have also been a place of solace during tragic events (on 9/11, we had many Americans come into the store dazed by what had happened and we made them coffee and tea and gave them comfort).
This has also happened when the tragedies were closer to home, as in the sinking of the Cap Rouge and the loss of the lives of family members here on Galiano. Five people, all from one family, lost their lives that day (in 2002). The children involved and their mother were regular customers at our store. Many islanders came in to the store that day just needing to be held.
Writing the arts with John Threlfall: What you missed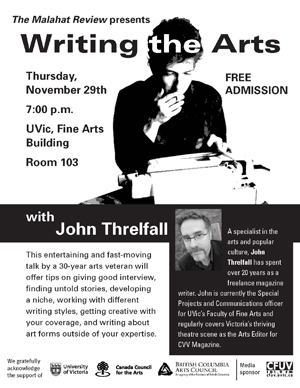 by Matthew Miller with comments from John Threlfall
On November 29, 2012 John Threlfall shared his views on the life and craft Writing the Arts. Here's what you missed.
What we mean when we talk about John Threlfall

John Threlfall is not an arts writer who fits neatly inside a short introduction. Specialist in popular culture is a good place to start (so is this biographical link ). John Barton, Malahat editor and MC for Writing The Arts, ticks off Threlfall's life in stage, page, and radio. And television. And online. By the time Threlfall takes the platform those of us gathered here know everything, he says, except his shoe size and telephone number. [Size 9, actually, and a lot of people call our house just to hear our ever-changing answering-machine messages, which I've been custom-recording since 1984. — J.T.] And right away we know two things. He's funny and he loves what he does.
Our 1st-annual symposium:
WordsThaw 2013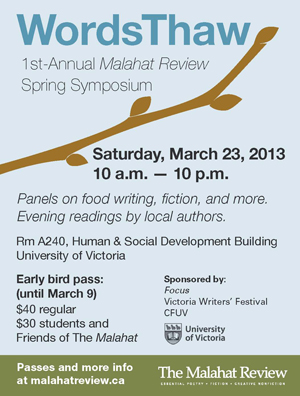 Saturday, March 23
10 a.m. - 10 p.m.
UVic Human and Social Development Bldg.
Room A240
Join us at our first-annual Spring writing symposium: WordsThaw!
The day will be filled with three panels: one on food writing featuring Rhona McAdam, Peter Ladner, and more; one on fiction writing in collaboration with Focus magazine featuring Focus arts reporter Amy Reiswig moderating John Gould and Yasuko Thanh; and one TBA organized by the folks from the Victoria Writers Festival!
In the evening, we'll hold a reading with some of the winners of our UVic 50th Anniversary Writing contest, local Malahat authors, and WordsThaw panelists.
Early-bird passes will be available very soon on our website:
Regular full pass: $40
Student/Friend of The Malahat full pass: $30
All full passes include a one-year subscription to The Malahat Review!