Our 1st-annual spring symposium:
WordsThaw 2013!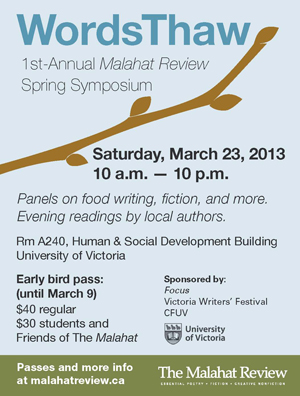 Saturday, March 23, 2013
10:00 a.m. - 10:00 p.m.
UVic, Human and Social Development Bldg.
Room A240
Join us for an intellectual icebreaker at the cusp of spring! Three daytime panels and a literary reading in the evening.
Panels:
"Zoom In, Zoom Out: Focus on Fiction" moderated by Amy Reiswig with John Gould, Yasuko Thanh, and Daniel Griffin. (Sponsored by Focus magazine).
"A Sustainable Feast: The New Food Writing" moderated by Don Genova with Rhona McAdam and Peter Ladner.
"In our Names: Writers on Poverty," with panelists Patrick Lane, Madeline Sonik, and Sylvia Olsen. (Organized by the Victoria Writers' Festival).
Literary Reading with our UVic 50th Anniversary Prize winners Pamela Porter, Laura Kraemer, and Katherin Edwards as well as local writers Bill Gaston, Marilyn Bowering, Lorna Crozier, Lee Henderson, and C. P. Boyko.
Tickets can be purchased from our website:
Earlybird rates (until March 9th) for full pass (includes all panels and literary reading):
Regular: $40
Students/Friends of The Malahat: $30

**All full passes include a one-year subscription to The Malahat Review or an extension of your current subscription.
A look inside issue 181, Winter 2012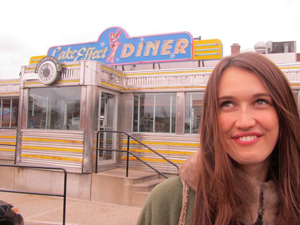 "It's Raining in Paris"
Short Fiction
by Laura Legge

There is so much work to be done. Rain has been pounding Paris for weeks. Whole swathes of pavement have come untied, sidewalks once ribboned into four-way intersections, ravelled now with seams exposed, ragged hems no longer travelled by bicycles, sedans, wandering feet.
They say my blueprints will pull us headfirst from this emergency.
In my office, an eight-by-eight cork cubicle on the eighth floor of the Institut de la Ville, I hunch over an early draft I've called "Centre City Contingency," using a line gauge to lay out a series of stormwater drains. Until I sense my boss hovering.
Read "It's Raining in Paris" in full on our website.
Paris over Boise: PJ Grace in Conversation with Laura Legge
PG: First off, I notice you share the same name (Laura Legge) as the first-ever elected female bencher and first female Treasurer for the Law Society of Upper Canada. There's even a Laura Legge Award for female lawyers in Ontario. Did your parents name you after her, or is this just a coincidence?
LL:Hey, good sleuthing! The amazing Laura Legge in question was my great aunt and she was definitely a factor in naming me. My family is full of cool and ridiculously accomplished people like that. I'm really lucky.
Board Meeting:
Matthew Hooton, member of our fiction board
Matthew Hooton holds degrees in creative writing from the University of Victoria (BA), and Bath Spa University (MA). His first novel, Deloume Road, was published in 2010 by Knopf Canada and Jonathan Cape UK. He has also written creative nonfiction for venues such as the CBC, Geist, Reader's Digest and Monday Magazine. After years of working as a freelance editor and writer in South Korea, he now lives and writes on Vancouver Island, where he teaches Creative Writing part-time at the University of Victoria.
Describe your ideal short story
It's tough talking about what I look for in a short story, because what I most want is for writers to write exactly how they want, and with as much integrity as possible. And of course it's impossible to think of something that hasn't been said 3 million times. Voice, a strong narrative, intriguing characters, beautiful language, a setting that matters- these things are a given for any editor. But, considering the number of submissions we see, I guess I'm looking for a bit of audacity.