One Month Left to Enter: 2016 Open Season Awards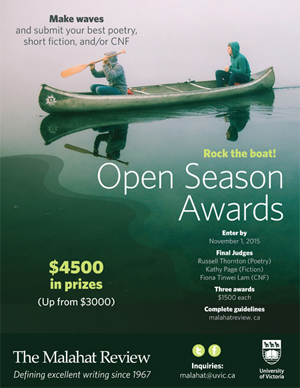 Steady your aim: the Open Season contest closes November 1! Poetry, fiction, creative nonfiction... it's like a choose-your-own-adventure novel, only better.
With $4,500 up for grabs in cash prizes (a $1,500 increase over previous years), this is one contest you won't want to let slip by. Russell Thornton (poetry judge), Kathy Page (fiction judge), and Fiona Tinwei Lam (creative nonfiction judge) will be standing by to pick the best entries and name this year's winners.
Rock the boat and make waves with your writing!
Entry fees vary by location. All entrants will receive a one-year subscription to The Malahat Review.
Full contest guidelines available on the Malahat website.
Autumn Issue Interview: Joe Rosenblatt's Poetry and Upcoming Cover Art

This summer, poet Joe Rosenblatt blindfolded Malahat poetry board member Jay Ruzesky and led him into the woods to a secret location to sit on a windfall log, drink herb tea, and talk about the mysteries of the Green Man that are revealed in Rosenblatt's poems in Issue #192, Autumn 2015.
Jay: When and how did you get interested in the Green Man? Was there a particular building or sculpture that inspired you?
Joe: I spent quite a number of hours sketching trees in the Qualicum Beach Heritage Forest, a nature preserve of forty acres not far from my house. I took hundreds of notations as well as doing sketches of the giant cedar stands—some that are first growth, others second growth, and then it occurred to me that there is a mythic protector of the forest, the ultimate forest manager—the Green Man. Now, I could lie to you and say I met that verdant god quite by accident when I was trekking in the woods on the lookout for a fallen tree to sketch—and the Green Man spoke to me through his floriated mask—and I swore I would never reveal his hideaway—but I would be indulging in mythomania, which poets often do.
Read the rest of Joe Rosenblatt's interview on the Malahat website.
Autumn Issue Interview: Alex Leslie's Nonfiction

Plenitude Magazine founder and Caitlin Press publicist Andrea Routley discusses origins of folktales and historical inspiration with Writers' Trust award-winning author, Alex Leslie. Her creative nonfiction piece, "Yiddish Stories," will appear in Issue #192, Autumn 2015.

AR: What kind of research was involved in writing "Yiddish Stories"? Where did you encounter these stories? 
AL: These stories come out of my experiences in my family, stories from my grandmother, as well as my own reflections and explorations of our Jewish history. For a long time I have been drawn to Yiddish folktales, which are traditional stories from the Jewish communities in Eastern Europe. I have been reading Yiddish folktales for years and over time decided to use them to start to write some of our history, which includes the experience of the pogroms, immigration from eastern Ukraine, and the subsequent devastating impact of the Holocaust in the region. It is a complicated history with many gaps and many different perspectives.
Read the rest of Alex Leslie's interview on the Malahat website.