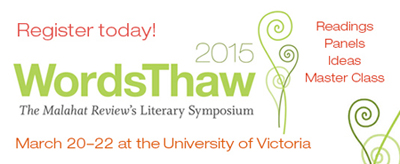 Held each year at UVic, the event brings together poets, novelists, fiction writers, playwrights, publishers, students, and others with an interest in creative writing for a weekend of readings, panel discussions, workshops, and socializing. This year, we'll be hosting a Friday night of readings followed by an after party, a full Saturday of panel discussions, blue-pencil workshop sessions, and a Sunday afternoon Poetry Master Class workshop.
Visit the WordsThaw website for event schedules and tickets.

Malahat volunteer Murray Leslie talks with Lynne Van Luven about her role as moderator for Natural Divide or Shape-Shifting Chic: Negotiating Creative Nonfiction's Extremes, one of four interactive panel discussions at this year's literary symposium, WordsThaw. This event runs 10:30 a.m. - 12:30 p.m. on Saturday, March 21 at UVic. Panelists include Fiona Tinwei Lam, Mark Leiren-Young, and Jane Silcott.
ML: You grew up in a small town and cut your teeth (journalistically) at the Red Deer Advocate. Do you think that writing in a small western Canadian town gives you a unique perspective on human behaviour?
LVL: When I got my first job at the Red Deer Advocate, I was totally green as a reporter and I had to learn everything on the job. It is nearly impossible to have that experience today because journalism had become professionalized. And because there are so few jobs left in print journalism. What I learned as a young reporter is that everyone has a story, and that no story is beneath the telling. I learned to watch human nature, and to quickly assess people's behaviours.
Read the rest of Lynne's interview on the Malahat website.
Rebecca Salazar - Poetry Winner

Malahat marketing assistant Claire Macdonald speaks with Rebecca Salazar on winning the 2015 Open Season Award for Poetry with her poem, "synaesthesia."

CM: Do you yourself experience the neurological phenomenon synaesthesia? If yes, when did you first discover this mixing of senses? If not, how did you first hear about the condition?
RS: Some of my earliest memories are synaesthetic associations. Sounds and words have particular colours to me, and sometimes textures, or levels of light. I remember using it as a sort of mnemonic device when I was a child learning English—my first language is Spanish—to remember how words were spelled, and what they meant. It remains part of the way I write, and will often rewrite entire poems for having too many vowels of the wrong colour, or some other such offense, even when I realize these are details nobody else might interpret this way.
Read the rest of Rebecca's interview on the Malahat website.
---
Wanda Hurren - Fiction Winner

Malahat volunteer Melissa Stephens speaks with Wanda Hurren on winning the 2015 Open Season Award for Fiction with her story, "Rain Barrel."
MS: Do you see this work as a form of flash fiction?  Could you comment on the relationship between its brevity and the foreboding mood it produces?
WH: I see the story as a form of postcard story. It is a brief glimpse into a place and a family in that place, and while the foreboding mood grows as the day/story unfolds, the reader comes upon that mood in almost a moment—my intention was to evoke that foreboding in a flash, so to speak, and then leave the reader to 'write' a larger story.
Read the rest of Wanda's interview on the Malahat website.
---
Mike Carson - Creative Nonfiction Winner

Malahat volunteer Katie Weaver speaks with Mike Carson on winning the 2015 Open Season Award for Nonfiction with his memoir, "The Neanderthal and the Cave."
KW: Your winning memoir feels like something that came from a deep place. Is this a topic you've tried more than once to write about, or did the idea spark once you came across Robert McCrum's claim?
MC: If by "the idea" you mean the notion that life is fleeting and uncertain and that artistic expression is an innate (and likely futile) grasping for immortality and meaning, I can't take any credit for it. That idea is an old and universal one. We find it in Shakespeare's sonnets and on Keats' grave; it's stamped on the face of Shelley's Ozymandias and emblazoned across van Gogh's strange but oddly comforting stars. What I tried to do was to strip away all of the extraneous trappings of the modern world and explore, in a rather absurd way, how that basic human desire might have looked in our earliest ancestors.