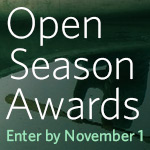 Deadline: November 1, 2015 (postmarked)
Prize: $1,500 in three categories: poetry, fiction, CNF
Entry fee:
$35 CAD for Canadian entries
$40 USD for entries from the USA
$45 USD for entries from elsewhere
Additional entries are $15 CAD (from anywhere).

Rock the boat! Our annual Open Season contest is underway, and this year we've increased the total prize money by $500 per genre.
Writers of all levels are invited to enter poetry, fiction, and/or creative nonfiction. There's no theme or specific criteria for this contest, so go wild and send us your best work.
Final judges are Russell Thornton (poetry), Kathy Page (fiction), and Fiona Tinwei Lam (creative nonfiction). Keep reading for interviews with each judge!
Full contest guidelines available on the Malahat website.
Russell Thornton - Poetry Judge

Malahat volunteer stephen e. leckie talks with Open Season Award poetry judge Russell Thornton about great poems as the meeting place between language and experience.

SL: What does a great poem evoke for you? Do you read differently as a poet and/or a contest judge?
RT: A great poem causes me to be speechless; it evokes silence. It also produces a feeling in me that I'm changed—that I'm not what I was before I read the poem. It's an act of magic ...What I know is that the experience is visceral and spiritual at the same time and that it re-makes my awareness on the spot and communicates to me something of what it is to be human.
Read the rest of Russell's interview on the Malahat website.
---
Kathy Page - Fiction Judge

Malahat fiction contributor Trevor Corkum interviews Kathy Page, this year's fiction judge for the Open Season Awards, on personal literary influences and the future of Canada's short-story scene.
TC: The short story form is chameleon and shape shifting, filled with infinite possibility. The best short fiction, I think, comes into being seemingly fully formed, completely original, sui generis. Who are the short story writers you admire most? What short fiction writers have had the biggest impact on your own work in this form?
KP: Yes—one of the wonderful things about the short story is the scope it offers for formal invention, how infinitely various and startlingly new (and at the same time ancient) it can be ... Oddly enough, many of the short fiction writers who have meant most to me have names beginning with C: Carter (Angela), Carver, Calvino, and Chekhov... These are writers who do very different—indeed, almost opposite—things with both the story and the sentence.
Read the rest of Kathy's interview on the Malahat website.
---
Fiona Tinwei Lam - CNF Judge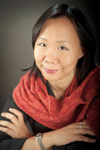 Malahat volunteer Katie Weaver talks with Fiona Tinwei Lam about judging creative nonfiction (CNF) for the Open Season Awards. What is the fine line between truth and falsehood? Can we trust our memories when writing memoir?
KW: You must be excited to be judging CNF, but it sounds like a big job. What do you value most in this genre? What is the one aspect of a CNF piece that you believe to be pivotal, for you, between a successful or less successful piece?
FTL: I love the incredible variety in CNF—memoir, travel or historical writing, lyric or personal essays exploring a particular concept. The strongest nonfiction makes me come away with the sense that I have gained some new or deeper insight, whether or not I'm familiar with the subject matter. The work will allow me to enter another world, time, place, or mind, and go on an experiential and/or intellectual journey with the writer. 
Read the rest of Fiona's interview on the Malahat website.

Malahat volunteer Jack Crouch talks with our 2015 Far Horizons Award for Fiction contest winner, Mark Rogers, whose story, "Heaven and Back Again, or The Goddit," was chosen for the $1,000 prize. His piece will be published in the upcoming Fall issue.
JC: Where did you find inspiration for your Far Horizons Award-winning story? What struggles did you encounter before getting it to where you wanted?
MR: In the story, some children find a side door into heaven, which lets them in and then back out again. They can come back. It's not a gift—it's actually dangerous and threatening—and this notion of a magical ability that is really a curse taps into some elemental fears and storytelling themes. That's what I had to start with. That, and a blank page.
Read the rest of Mark's interview on the Malahat website.