Contest Call for Submissions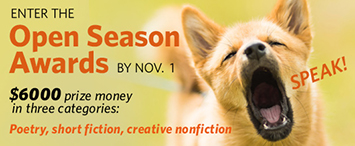 Entry fee (comes with a one-year print subscription):
$35 CAD for Canadian entries
$40 USD for entries from the USA
$45 USD for entries from elsewhere
Additional entries cost just $10 CAD each, no limit!
Keep your eyes on this year's BIG prize: three awards of $2000! Our annual Open Season Contest is underway, and writers of all levels are invited to enter poetry, fiction, and/or creative nonfiction. There's no theme or specific criteria for this contest, so speak up and send us your best work.
Final judges are Shane Book (poetry), Carmelinda Scian (fiction), and Kyo Maclear (creative nonfiction).
Read an interview with Carmelinda Scian below!
Look for interviews with Shane Book and Kyo Maclear in October's Malahat lite.
Full contest guidelines available on the Malahat website.
Interview with Open Season Awards Fiction Judge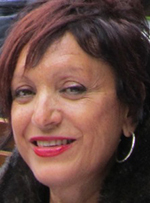 Malahat volunteer Eliot Gilbert talks with Open Season Awards fiction judge Carmelinda Scian about the art of the short story, how academia can shape your writing, and the writer's responsibility to address global and social issues.
EG: As a judge, what qualities are you looking for in a winning short story?
CS: I look for a story that engages from the opening sentence, that piques my curiosity by taking me into new worlds or new ways of seeing and understanding the familiar. The story may surprise, delight, shock, sadden, titillate, or provoke but it must resonate with my own frail humanity. It should remain with me long after the last line is read and lead me to want to read more from that author. I have no preference for particular topics or styles — the story can be about leaves of grass or a snail — as long as the writing is well crafted. Cleverness is superfluous if it doesn't contribute to the order of the whole.
Summer Issue Interview with Jade Riordan on Poetry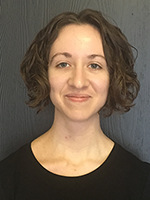 Malahat volunteer Sarah Brennan-Newell talks with Jade Riordan about Morse code, liminal spaces, and the inspiration behind her poem "The Buoy Lines."
SB-N: One of the things that first struck me about the poem was the use of Morse code to divide the stanzas. Translated it reads "Still Guided By My Past Selves." Could you speak more to your decision to incorporate Morse code into the text, and what you see as the interplay between the body and the translated code?
JR: The body of the poem is inspired by the translation of the code, "Still Guided By My Past Selves," and a collection of short horror thriller stories, Slasher Girls & Monster Boys (selected by April Genevieve Tucholke). As I associate something going wrong at sea with the ubiquitous SOS, I decided to translate the line "Still Guided By My Past Selves" into Morse code to add to the atmosphere and as a way to incorporate the line into the finished poem.
Read the full interview with Jade Riordan on our site.