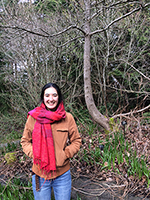 Malahat Review volunteer Bill Thompson talks with the Novella Prize judge—and 2018's Novella Prize winner—about submitting widely (and wildly), straddling the novel / short story line, and growing diversity in the
writing world.
BT: Do you have specific elements you will look for in the submissions for this year's contest?
SJM: That's a tricky one! On the one hand, I'd say, "nothing specific," because I don't think it's a great idea to write to try and please someone else. But on the other hand, I know it's an unsatisfying answer. I guess I'm looking for writing that feels alive and energetic. Vivid characters, satisfying structural choices, deeply-imagined settings, and careful prose are all good places to start though.
BT: What sort of encouragement can you offer to writers early in their careers, especially those submitting to contests such as this one?
SJM: Contests are great for people who find external deadlines helpful! Submit widely (and wildly). Revision makes the work better.
Writing fiction is difficult, frustrating, lonely, and overwhelming, but it's also the closest I come to making sense of my life. For me it's worth it. I hope for you it is too.
Read the rest of Samantha's interview on TMR's website.
Naben Ruthnum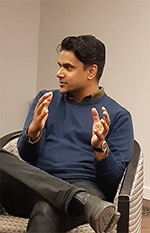 Malahat Review volunteer  Samantha Fitzpatrick talks with the Novella Prize judge—and 2012's Novella Prize winner—about doing the work, unpredictable characters, and how contests don't dictate your worth as a writer.

SF: Is there any advice you would give to someone who is considering submitting for the first time?
NR: The novella contest at The Malahat Review is a bit of a unique one, in that it provides a chance to work on a piece of fiction that's at that often not-quite-publishable length between short story and novel. I think that's one of the nice things about it: you can silence the practical part of your mind that insists that working on a novella makes little sense. It makes little sense to write anything at all if you think about it long enough, so it's always best to just try to think about the ideas and characters and do the work.
I'd also suggest not taking winning too seriously, which I'm afraid I did not do myself when I submitted to The Malahat Review's contest back in 2012. I was attaching too much value to wanting, needing to win and getting that story published. Contests do not dictate your worth as a writer or the viability of your career.
SF: As a judge for this year's Novella Prize, what are you looking for in a winning entry?
NR: Strangeness, surprise, insight. Ambiguity. Evidence of care and thought in each sentence.