Issue 180, Fall 2012
On newsstands in October!
Over two years in the making, the East Coast issue is set to appear in October! At 160 pages, this is a treasure trove of contemporary Maritime writing. Atlantic Canada's The Fiddlehead is publishing a concurrent West Coast issue and we know you'll want to read both. In the meantime, here's an overview of the jewels from the east.
First off, there are no less than twenty-eight poets represented in #180, including Anne Compton, Michael Crummey, John Steffler, Anne Simpson, George Elliott Clarke, M. Travis Lane, Warren Heiti, and Mary Dalton.
The fiction bounty includes "Your #1 Killer & Extra Hands" by Kris Bertin. He's talking again. Tells me about his jobs if he does things I'm not around for, and starts to get me involved when I am. Me with a bag on a stick, standing ready to catch the hornets' nest as big as a balloon while he saws it off a branch, dressed in a snowsuit with a snorkel and goggles.
Lisa Moore's "Guard of What" is a tale of coping; with urban life and the breakdown of a marriage. A couple of nights before she'd heard the girl say to her cellphone: You know I would do anything for you. But don't ask me to do it alone.
Kerry-Lee Powell's "The Prince of Chang" plumbs the lives of characters preoccupied by the metaphysical while embroiled in suburbia. While his mother sits upstairs with posters of Jesus, chunky Leland has dedicated his basement life to unlocking the mysteries of the occult.
There are four glittering creative nonfiction pieces in this issue, all remarkably distinct, all beautifully written. From the poetic "The Approaches" by Robert Finley, and Chris Donahoe's instantly engaging "Test," to Shane Neilson's heartbreaking "The Entirely Beautiful" and Sandra Djwa's account of P. K. Page's early years (1935-41) in Saint John, these are memorable essays. Also not to be missed, Anita Lahey talks with poet M. Travis Lane in an interview titled "Nothing Too Small to Say." Recent East Coast books are examined by West Coast reviewers, including Theresa Kishkan on Don McKay, Donna Kane on Riel Nason, and Jamie Dopp on Russell Wangersky. The issue features a gorgeous seasonal cover, "October Pond #3" by the celebrated photographer, Freeman Patterson. And the treasure spills over!
Visit our re-born website for additional East Coast interviews and reviews, from both us and The Fiddlehead once the print issue has launched.
See the entire table of contents for #180 on our website.
Board meeting: A Q&A with Fiction board member, Iain Higgins
Iain Higgins is a writer, translator, critic, and teacher. He has been a member of our fiction board for two years and he teaches in the English department and in the Medieval Studies Program at UVic.
Describe your ideal short story
My ideal work of short fiction? Is there an ideal anything? As a reader I'm Aristotelian rather than Platonic: I'm more taken by the multitudinous creatures that people the world's literary ecosystems than by something hidden in the mind of god. The stories I love, like everything I love or admire, I love for their being what they happen to be in their own idiosyncratic way, for their thisness, for whatever makes them distinctive even when they share family resemblances with other stories (poems, people, things). Above all it's the play between expectation and surprise, between familiarity and mystery, that catches my fancy and my attention: I know you, I don't know you, I want to know you better.
My first published short story was in Canadian Fiction Magazine by Lisa Moore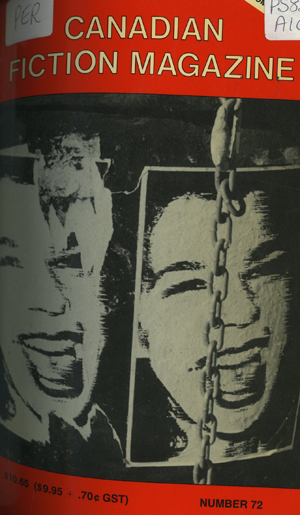 My sneakers were soaking wet and water squished and oozed onto the floor with every step I took. It had been dark outside, the headlights of passing cars were yellow and lit up the slanting rain. Neon spills of red, green, and hot pink were breaking apart in the slicks of water on the black asphalt outside.
The bookstore was fluorescent bright, blinding and hushed. I was headed toward the magazines. My husband followed behind me.
Somebody had called me from home to say the issue of Canadian Fiction Magazine featuring Newfoundland writers had been published. Someone said it was in bookstores.
I was going slow/fast.
Slow because I expected to be disappointed and I wanted to prolong the moment before disappointment struck; fast because I expected to be disappointed and I wanted to get it over with.
Where to buy a copy of The Malahat? Atlantic News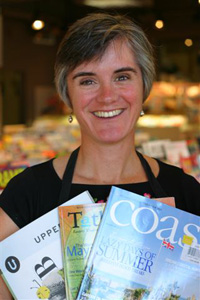 5560 Morris Street
Corner of Morris and Queen
Halifax, NS
B3J 1C2
Malahat volunteer, Heike Lettrari, asked Michele, owner and manager of Atlantic News, a proud carrier of The Malahat Review, a few questions about her east coast newsstand.
What's the literary sensibility like in Halifax? Is there openness for other Canadian, American, and International writing, or is there favouritism for local authors, poets, and writing projects?
Halifax loves to read and write. We have the Writers Federation of Nova Scotia, Poet Laureate Tanya Davis, a number of reading series, Word on the Street, and tons of book launches and signings. There are many local writers and poets that get published in a variety of literary journals.
Most of our holds are for those issues they are featured in and more often than not they are Canadian titles. Thankfully there are two large local book publishers and at least ten smaller publishers that I get to choose which books to order and incorporate into the magazine sections. That being said, there have been lots of requests over the years for American titles, as well magazines such as The Baffler, Paris Review, and the popular McSweeney's.