I Find Poetry very Tough: Stephen Leckie in Conversation with J. Mark Smith
Stephen Leckie: In your 2007 collection Notes For A Rescue Narrative, "place" figures prominently in your experiences as a poet. How is "Landscape with petroleum plant and sewage treatment facility" similar or different from some of your favourite poems in that collection?
J. Mark Smith: "Place" is a kettle of fish, isn't it? I have several thoughts about it. One is that to write with competence at this moment in time means you've learned at least some of the technique that was hard won by poets from the late eighteenth century onwards. That goes along with a philosophical and aesthetic inheritance too. I'm following on the coat-tails, then, of two centuries of thinking about the subjective experience of place and about the cultural significance of places.
Also, I might add that I was given a Wordsworthian sort of psyche by my early experiences (my father was a mountaineer who was killed in the Rockies when I was six). That is, certain Wordsworth poems, when I came upon them in my eighteenth year and later, helped me to decipher and become aware of my own blank spaces. But writing in the Wordsworthian vein is not a ticket to literary success in the early 21st century.
Read the rest of this interview on our website.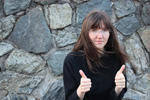 And You Keep Going: Vanessa Herman in Conversation with Erin Frances Fisher
Vanessa Herman: How has winning the 2012 Open Season Award in Short Fiction affected your writing?  Has it given you more confidence when you are trying something new or different from your usual character/plot/tone?
Erin Frances Fisher: It's always nice to win a contest, and it's always nice to get accepted because we get many more rejections than acceptances. It's just that little bit of inspiration that keeps one writing and trying to get published.  But I don't think winning the Open Season Award has changed my writing.  For me it's a matter of doing the same: writing every morning, rewriting, and rewriting some more.  When it gets published then I have to write something else.  As for confidence winning a contest just makes you feel a little more secure, and you keep going.
Read the rest of this interview on our website.

We all Need a Little Encouragement: Julia Kochuk in Conversation with Tik Maynard.
Julia Kochuk: What have you been up to since you won the 2012 Open Season Award in creative nonfiction? Have you been writing a lot?
Tik Maynard: I haven't really been writing much at all. I've been riding horses a lot and competing. My girlfriend and I became engaged. She's in England right now; she's an alternate for the U. S. Olympics team, and she's trying to get on the team right now. It's a big deal to move a horse around the world. A flight for a person costs $1,000, but a flight for a horse costs, like, $5,000 to $10,000. Other than that, really not much. I'm reading a lot.