League of Canadian Poets' Long Poem Symposium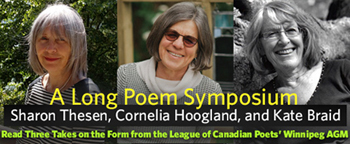 During the afternoon of May 30, 2015, as part of its annual general meeting in Winnipeg, the League of Canadian Poets hosted "Writing, Editing, and Publishing the Long Poem," a panel discussion on a genre that The Malahat Review has nurtured through the Long Poem Prize since 1988.
To coincide with the publication of The Malahat Review's Summer 2015 issue, which showcases the two Long Poem Prize-winning poems by Gary Geddes and Genevieve Lehr, B.C. poets Kate Braid, Cornelia Hoogland, and Sharon Thesen have generously made the papers they delivered at the League conference available on our website. Their remarks, which are an important addition to the critical literature, shed light on their experience at writing, and their attraction to and understanding of the challenges and history of the long poem in Canada and elsewhere.
Read more about the Long Poem Symposium papers.
Issue #191 Poetry Interview: Sarah de Leeuw

Malahat poetry board member Samantha Ainsworth talks with Sarah de Leeuw about her poems, "Rogue Stars" and "Our temperate life," focusing on poetic craft, the power of extensive reading, and how place and space fit in to the writerly life.
SA: Your poetry rolls with lovely language and imagery, and draws its reader along to a point at which human connectivity occurs. In your poem, "Our Temperate Life" the speaker pulls "the blue grey exoskeleton from farmed/ Northern Striped Shrimp, my fingers cold/ under the tap's thin running stream." This sort of common experience bites at the senses and reminds us that we are similar beings that exist together on this earth. In the rendering down of complex issues in this concise manner, do you find that poetry reaches more people, is a more effective vehicle of communication than other genres?
SdL: It does seem to me that poetry encompasses such a huge range of expression; it's hard to say one specific thing about it. On the one hand, I think poetry is something quite primal, something many people feel an affinity towards—I'm thinking here of greeting-card poetry or poetic quotes that offer many people daily affirmations. I'm also thinking of musical lyrics or powerful public speeches, both of which often deploy a kind of poetic convention. On the other hand, I think that poetry (shall we say Poetry with a Capital 'P'?) has, for many people, a very alienating and elitist ring to it: how often have I heard "I just don't understand poetry" or "poetry's one thing I could NEVER write…."
Read the rest of Sarah's interview on the Malahat website.
Issue #191 Fiction Interview: John Goldbach
Malahat fiction board member Lee Henderson talks with Montreal novelist and short story author John Goldbach, using his story, "Sigismund Mohr: The Man Who Brought Electricity to Quebec," as a launch pad for a more general discussion of writing historical fiction as well as John's recommended reading.

LH: What about the subject, Sigismund Mohr, in particular, made you want to write this kind of fictionalized account of his life?
JG: Well, for starters, there's so little information on Sigismund Mohr—he doesn't even have a Wikipedia page, for instance—and he's such a monumental figure, it seems to me, and fascinating; the subject of electricity and energy's fascinating in its own right but this figure from Breslau arriving in Montreal and then transporting his family to Quebec City, where he'd one day bring hydroelectric power, harnessing waterpower from nearby Montmorency Falls, seems amazing to me, a man performing wizardry, and there's virtually nothing on Mohr, which is strange and suspect, almost like the historical record's been redacted, though that sounds paranoid and dramatic.