Literary Festival Returns March 16-18 in Victoria, B.C.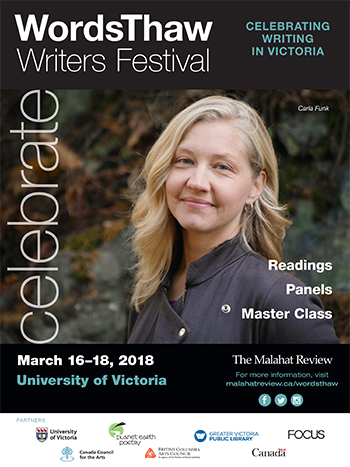 The Malahat Review's annual literary symposium is back!
Take part in three days of readings, panel discussions, workshops, and one-on-one writing critiques with writers from coast to coast.
Featured authors include Frances Backhouse, Karen Enns, Carla Funk, Bill Gaston, Michael Kenyon, Dan MacIsaac, Joan MacLeod, Sheila Munro, Susan Sanford Blades, Madeline Sonik, Joanna Streetly, and lots more!
Registration for all events is OPEN—see the Event Schedule on the WordsThaw website. Register now and you can sign up for a Brief Encounter blue pencil session with a Victoria author!
Buy tickets today for the 2018 WordsThaw Writers Festival.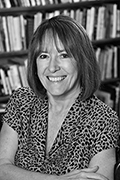 Malahat volunteer Lauren DeGaine talks with Far Horizons Award for Poetry judge Carolyn Smart about the possibilities of poetry, creative processes, and tough competition.
LD: What types of poetry attract and interest you currently? Is there anything specific you look for or notice when reading a poem— whether it's a student's work, or a submission to a contests like Far Horizons?
CS: I look for poems that feel honest, emotionally generous, and surprise with originality of imagery and language. I am constantly impressed by what I see from my students and know how much excellent work is out there, waiting to be shared.
Read the rest of Carolyn's interview on the Malahat website.
Barbara Pelman (poetry)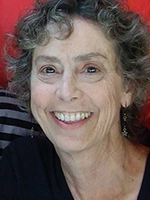 Malahat volunteer Paul Monfette talks with Barbara Pelman, winner of the 2018 Open Season Poetry Award for "Nevertheless" as selected by judge Evelyn Lau.

PM: Did the glosa form choose this poem?
BP: This poem began, I think, with being knocked out by Merwin's poem "Listen." Writing a glosa is a way to live within the poem, to explore its many branches and images. The first one I ever wrote was in response to Carl Sandburg's marvellous four line poem called "Splinter." By stretching it out, the glosa can use the wisdom of the original poem to allow you to build your own imagery and ideas. Not that the original wasn't complete in itself! It's a kind of borrowed room that perhaps can become your own.
Read the rest of Barbara's interview on the Malahat website.
Jann Everard (fiction)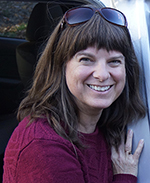 Malahat volunteer Rose Morris talks with Jann Everard, winner of the 2018 Open Season Fiction Award for "Blue Runaways" as selected by judge Carleigh Baker.
RM: The rural setting of Iceland plays and important role in your story. Can you talk a little about how place factors into your writing?

JE: My stories are often launched by my own interaction with place/landscape and my experiences as an outdoorsperson. This story was the result of a two-week camping trip to Iceland, but I'm afraid it won't do much to increase tourism there. Iceland has many beautiful features, but the barren interior plateau is desolate and the lava fields stark. My response to the landscape—its bleakness—was the root of the story.
Read the rest of Jann's interview on the Malahat website.
B. A. Markus (creative nonfiction)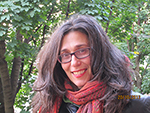 Malahat volunteer Paige Lindsay talks with B. A. Markus, winner of the 2018 Open Season Creative Nonfiction Award for "How Can a Dog Help a Goose" as selected by judge Betsy Warland. Read an excerpt here.
PL: What do you think the role of art is, from both Indigenous and non-Indigenous Canadians, in addressing our shared history, present, and future?
BM: I think it's important for all Canadians to address our shared history. We put the pressure on artists to be the ones that will lead the charge. But I think that's limiting. If real change is going to happen, all Canadians have to work for justice and reconciliation. Artists can express their opinions and their emotions. Artists can suggest a process for understanding but ultimately the work must be done by the individual. It is up to the person seeking reconciliation and truth to find their own way.
Read the rest of Markus' interview on the Malahat website.