Novella Prize (contest now closed)

This contest is now closed. Check back in November 2021!
The Malahat Review invites entries for its biennial Novella Prize, for which one award of $CAN 1,750 is given. The contest is open to Canadian and international writers anywhere in the world, with a deadline of 11:59pm (PST) on 5 February 2020. All entries are judged anonymously, and the winning novella will be published in the magazine's summer 2020 issue. This contest is offered every second year, alternating with the Long Poem Prize. Writers contributing to The Malahat Review's contests have also won or been nominated for the Journey Prize, the Pushcart Prize, and National Magazine Awards.
*Mailed or emailed contest submissions are no longer accepted. Please read the instructions below to find out how to submit your contest entries through Submittable.*
2020 Deadline
The deadline for the Novella Prize is February 5, 2020 at 11:59pm PST!
Read about Samantha Jade Macpherson, our 2018 winner.
Judges
Meet the judges for the 2020 contest:
Get inspired! Read interviews with the judges by clicking their names. Find out what they're looking for in a winning novella and get advice, encouragement, and insight into writing fiction.
Book Prize
In addition to the $1,750 prize, we're giving away a book prize to one lucky entrant! All you have to do is submit your work to the contest, and you'll be automatically entered to win. After the deadline, we'll pull one name from the list of submitters.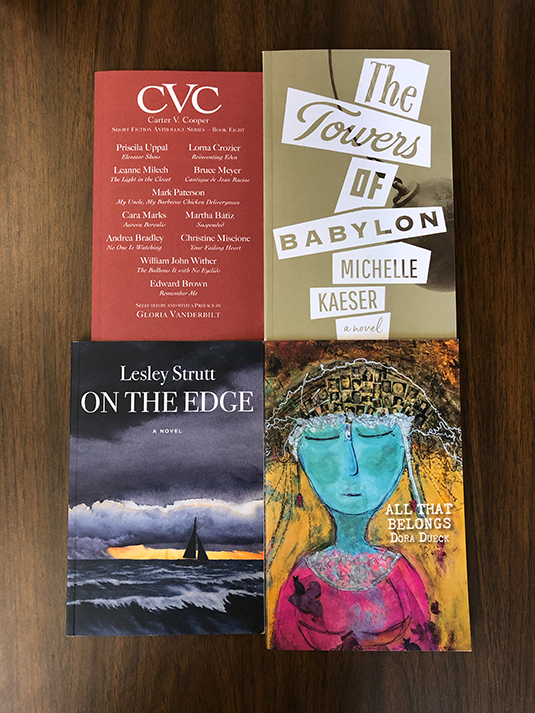 Carter V. Cooper Anthology Series—Book Eight various authors, selected by Gloria Vanderbilt
Exile Editions, 2019
The Towers of Babylon by Michelle Kaeser
Freehand Books, 2019
On the Edge by Lesley Strutt
Inanna Publications, 2019
All That Belongs by Dora Dueck
Turnstone Press, 2019
Guidelines
Writers may submit a single work of fiction per entry, with a minimum length of 10,000 words and maximum length of 20,000 words.
There are no restrictions as to form, subject matter, or aesthetic approach.
Please double-space your work and include a word count on the first page of your entry.
All entries are judged anonymously (no identifying information is to be included on any work submitted).
Multiple entries are allowed (at a reduced fee, if paid for at the same time as the initial entry: see Entry Fee, Additional Entries, and How to Submit below).
Entry Fee
$CAN 35 for each entry from Canada
$CAN 40 for each entry from the USA
$CAN 45 for each entry from elsewhere
$CAN 15 for each additional entry (any writer, any country)
See How to Pay (below) for detailed instructions

Entrants receive, for themselves or a friend, a one-year print subscription to

The Malahat Review

(for the initial entry only; no subscriptions are available for additional entries made along with the initial entry). Digital subscriptions and digital/print bundle subscriptions are not available through any of the magazine's contests.
Additional Entries
To receive the reduced entry fee(s) of $CAN 15.00, any additional entries must be paid for at the same time as the first entry; such additional entries should be submitted online within 24 hours of the initial submission. The same guidelines apply to additional entries as to the initial submission.
Eligible Entries
No work already published (even if only excerpted, or even if revised since original publication), already accepted for publication, or simultaneously submitted elsewhere is eligible for consideration. The Malahat Review

considers any appearance in print or online to be a publication, whether the form of publication be a newspaper, newsletter, magazine, anthology, chapbook, book, website, personal website or blog, Twitter, Facebook, or other suchlike forum for public circulation. This restriction on eligibility applies regardless of the size of the print run or the extent of the circulation of previously published work.

Failure to comply with these criteria for eligibility will immediately disqualify any entry

, regardless of when the ineligibility is discovered in the process of adjudication (submission, processing, screening, shortlisting, final judging). The entry fee for a disqualified entry will not be refunded, and the entrant will still receive a one-year subscription to the magazine.
Notification
The winner will be notified by email.

Other entrants will not be notified of the judges' decisions.

The shortlisted finalists will be announced in late March 2020 on

The Malahat Review

's website and social media accounts. The winner will be announced in April 2020. The winner will be interviewed, and the interview will be published subsequently on

The Malahat Review

's website, and in the July 2020 edition of

Malahat lite

, the magazine's monthly e-newsletter.

The winning entry, and only the winning entry, will be published in the summer 2020 issue of

The Malahat Review

.
How to Pay
Payment 

must be made online through 

The Malahat Review

 Store

(if you do not have a credit card, you can pay by cheque or money order: see below).

Unless 

you are paying by cheque or money order, you must pay the entry fees before making your submission, since you must 

include your ORDER # with your submission

.

If 

you are unable to pay by credit card, you can mail a cheque or money order (made out to 

The Malahat Review

) in $CAN or $US to 

The Malahat Review

, McPherson Library, University of Victoria, PO Box 1800, Stn CSC, Victoria, BC, V8W 3H5, Canada.

If paying by cheque or money order, you must indicate "cheque" or "money order" as required on the submission form.
Online payments will not be accepted after the contest deadline (if you have any problems with such payment, please write to malahat@uvic.ca). Payment by cheque or money order must be mailed with a postmark date of no later than 5 February 2020.
How to Submit
Only online submissions made through The Malahat Review

's Novella Prize portal on the Submittable website will be accepted.

Acceptable file formats: Word (.doc or .docx) or PDF only.
If paying by credit card, you must pay before you submit, since you will be asked to provide your ORDER # with the submission of each entry.
If paying by cheque or money order, you will be asked to specify which form of payment with the submission of each entry.
You can make only one entry at a time on the Submittable webpage; to submit additional entries, whether at the reduced rate (paid for at the same time) or at a standard rate, simply follow the same process as with the initial submission (the ORDER # will be the same for additional entries paid for at the same time as the initial submission; it will be different for an entry or entries made at a later date, since these require the full fee).
You can save a draft of your submission on Submittable before making the actual submission if you would like to revise your information.

Click on the Submit icon below and follow the instructions in order to submit to the Novella Prize contest on Submittable:
Previous Novella Prize Winners
2018
2016
2014
2012
2010
2008
2006
2004
2002
2000
1998
1996
1995