Constance Rooke CNF Prize
(contest now closed)



This contest is now closed. Check back here in mid-May 2022!
The Malahat Review invites creative nonfiction writers to enter the Constance Rooke Creative Nonfiction Prize, for which one prize of $CAN 1,000 is awarded. The contest is open to Canadian and international writers anywhere in the world, with a final deadline of 11:59pm (PDT) on 5 August 2021. All entries are judged anonymously, and the winning piece will be published in the magazine's winter issue #217. The Constance Rooke Creative Nonfiction Prize is awarded to the best work submitted to the magazine's annual contest for a genre that embraces, but is not limited to, the personal essay, memoir, narrative nonfiction, social commentary, travel writing, historical accounts, and biography, all enhanced by such elements as description, dramatic scenes, dialogue, and characterization.
*Mailed or emailed contest submissions are no longer accepted. Please read the instructions below to find out how to submit your contest entries through Submittable.*
2021 Deadline
The deadline for the Constance Rooke CNF Prize contest has been extended to August 5, 2021 at 11:59pm PDT.
Read about our 2020 winner: Christina Brobby.
Judge
Meet the judge for the 2021 contest:
Read an interview with Emily Riddle to find out what she's looking for in a winning entry.
Book Prize
In addition to the $1000 prize, we're giving away a book prize to one lucky contest entrant! All you have to do is submit your work to the contest, and you'll be automatically entered to win. After the deadline, we'll pull one name from the list of entrants.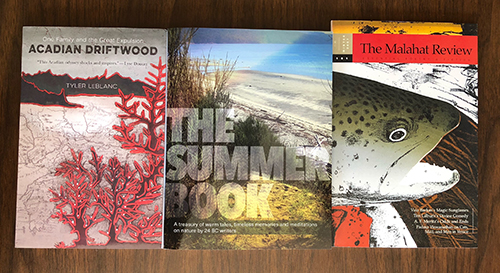 Acadian Driftwood by Tyler LeBlanc
The Summer Book (various authors) edited by Mona Fertig
The Malahat Review issue #161 featuring the first ever Constance Rooke Creative Nonfiction Prize winner, Vaia Barkas' "Blindspot"

About Constance Rooke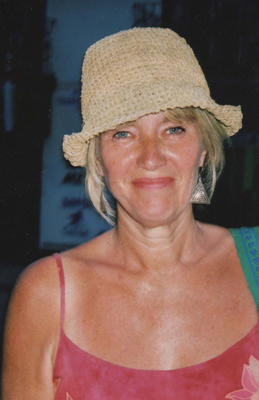 Constance Rooke
Connie Rooke (1942–2008) was born Constance Merriam Raymond in New York City. She pursued undergraduate studies at Smith College, where she won the same writing scholarship earlier held by Sylvia Plath (a matter of some pride). After a year roaming around Europe, she settled in New Orleans, concentrating on graduate studies at Tulane. In 1967, she began working on her PhD at the University of North Carolina at Chapel Hill, where she took over the editorship of the venerable Carolina Quarterly, and met and married Leon Rooke, the writer in residence at the time. In 1969, she joined the University of Victoria's Department of English. Read more.
Guidelines
Writers may submit one piece of creative nonfiction per entry.
The entry must be no longer than 3,000 words. Please include a word count on the first page of your entry.
There are no restrictions on subject matter or aesthetic approach. For example, the entry may be personal essay, memoir, cultural criticism, nature writing, or literary journalism. (Read our Creative Nonfiction mandate here.)
All entries are judged anonymously (no identifying information is to be included on any submission).
Multiple entries are allowed (at a reduced fee, if paid for at the same time as the initial entry: see Entry Fees, Additional Entries, and How to Submit below).
Entry Fee
$CAN 35 for each entry from Canada
$CAN 40 for each entry from the USA
$CAN 45 for each entry from elsewhere
$CAN 15 for each additional entry (any writer, any country)
see How to Pay (below) for detailed instructions
Entrants receive, for themselves or a friend,

a one-year print subscription to

The Malahat Review

(for the initial entry only; no subscriptions are available for additional entries made along with the initial entry). Digital subscriptions and digital/print bundle subscriptions are not available through any of the magazine's contests.
Additional Entries
To receive the reduced entry fee(s) of $CAN 15.00, any additional entries must be paid for at the same time as the first entry; such additional entries should be submitted online within 24 hours of the initial submission. The same guidelines apply to additional entries as to the initial submission.
Eligible Entries
No work already published (even if only excerpted, or even if revised since original publication), already accepted for publication, or simultaneously submitted elsewhere is eligible for consideration. The Malahat Review

considers any appearance in print or online to be a publication, whether the form of publication be a newspaper, newsletter, magazine, anthology, chapbook, book, website, personal website or blog, Twitter, Facebook, or other suchlike forum for public circulation. This restriction on eligibility applies regardless of the size of the print run or the extent of the circulation of previously published work.

Failure

to comply with these criteria for eligibility will immediately disqualify any entry

, regardless of when the ineligibility is discovered in the process of adjudication (submission, processing, screening, shortlisting, final judging). The entry fee for a disqualified entry will not be refunded, and the entrant will still receive a one-year subscription to the magazine.
Notification
The winner

will be notified by email.

Other entrants will

not

be notified of the judge's decisions.

The

shortlisted finalists will be announced in early October 2021 on

The Malahat Review

's website and social media accounts. The winner will be announced a week later. The winner will be interviewed, and the interview will be published subsequently on

The Malahat Review

's website, and in the December 2021 or January 2022 edition of

Malahat lite

, the magazine's monthly e-newsletter.

The

winning entry will be published in the winter 2021 issue #217 of

The Malahat Review

(in circulation February 2022).
How to Pay
Payment

must be made online through

The Malahat Review

Store (if you do not have a credit card, you can pay by cheque or money order: see below).

Unless

you are paying by cheque or money order, you must pay the entry fees before making your submission, since you must

include your ORDER # with your submission

.

If

you are unable to pay by credit card, you can mail a cheque or money order (made out to

The Malahat Review

) in $CAN or $US to

The Malahat Review

, McPherson Library, University of Victoria, PO Box 1800, Stn CSC, Victoria, BC, V8W 3H5, Canada.

If paying by cheque or money order, you must indicate "cheque" or "money order" as required on the submission form.
Online payments will not be accepted after the contest deadline (if you have any problems with such payment, please write to malahat@uvic.ca). Payment by cheque or money order must be mailed with a postmark date of no later than 5 August 2021.

Go to our online store to pay your contest fee(s).
How to Submit
Only online submissions made through The Malahat Review

's Constance Rooke Creative Nonfiction Prize portal on the Submittable website will be accepted.

Acceptable file formats: Word (.doc or .docx) or PDF only.
If paying by credit card, you must pay before you submit, since you will be asked to provide your ORDER # with the submission of each entry.
If paying by cheque or money order, you will be asked to specify which form of payment with the submission of each entry.
You can make only one entry at a time on the Submittable webpage; to submit additional entries, whether at the reduced rate (paid for at the same time) or at a standard rate, simply follow the same process as with the initial submission (the ORDER # will be the same for additional entries paid for at the same time as the initial submission; it will be different for an entry or entries made at a later date, since these require the full fee).
*Optional* You can save a draft of your submission on Submittable before making the actual submission if you would like to revise your information.
Click on the Submit icon below and follow the instructions in order to submit to the Constance Rooke Creative Nonfiction Prize contest on Submittable:
Previous Constance Rooke CNF Prize Winners
2020
2019
2018
2017
2016
2015
2014
2013
2012
2011
2010

Eve Joseph (Won the 2011 CNFC Reader's Choice award)

2009
2008

Joel Yanofsky (Won Silver for Personal Journalism at the 32nd Annual National Magazine Awards)

2007