Issues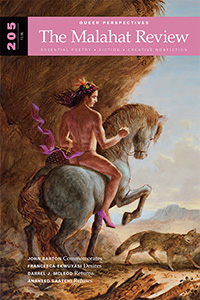 The Queer Perspectives issue celebrates LGBTQ2S?+ writers in Canada, featuring contemporary work chosen by guest editors Ali Blythe, Trevor Corkum, and Betsy Warland.
Kayla Czaga dedicates "Salmon and Potato Salad" to Matthew Walsh (MW), whose poem "Rochester Metaphors" also appears in the issue. Examine the politics of body hair in Anaheed Saatchi's "Rights of Passage – One Hairy, Brown, Queer Woman's Journey to Claiming Her Feminist Ideals." Explore closets, nooks, and crannies in "Homes" by Melinda Roy, illustrated by Eric Johnson. Dig into "Good Soil" by Francesca Ekwuyasi, and catch up with "[a]ll the old lesbians" in Arleen Paré's "A Certain Uncertain State of Affairs." Darrel J. McLeod drives back to his hometown in "The Carved Cedar Bent Box in the Trunk," while Anne Fleming shovels snow in "Bios." Adèle Barclay reads poetry in "For Ariss," and Arün Smith "[s]'exprime bien en plusieurs langues / give[s] voice to many tongues" in "S'entretenir soi-même / Internal interlocution." Anna Swanson and Rebecca Salazar learn to sit with pain in "Herx" and "Pain Management" respectively. Nathan Caro Fréchette spins the tale of "The Nettle Witch," while Charlie C. Petch makes excuses in "Why I Was Late."
Soak up some winter sunshine with reviews of books by Daphne Marlatt, Rani Rivera, Ahmad Danny Ramadan, Jen Currin, Adam Garnet Jones, Monica Meneghetti, Rae Congdon, and more!
Featuring cover art by Kent Monkman.
2018
2017
2016
2015
2014
2013
2012
2011
2010
2009
2008
2007
2006
2005
2004
2003
2002
2001
2000
1999
1998
1997
1996
1995
1994
1993
1992
1991
1990
1989
1988
1987
1986
1985
1984
1983
1982
1981
1980
1979
1978
1977
1976
1975
1974
1973
1972
1971
1970
1969
1968
1967