Our Back Pages
Issue #145
Issue Date: Winter 2003
Editor: Marlene Cookshaw
Pages: 132
Number of contributors: 35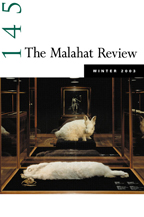 With issue 145, the second epoch of Malahat's long and hearty life comes to a close, or at least by my reckoning it does. Constance Rooke, Derk Wynand, and Marlene Cookshaw put their individual marks on the magazine, but in many ways, they had the same idea about what Malahat was and Marlene was a consistent presence through all of those years. This issue is Marlene's last and, as she says in her "Editor's Note," she was editor for only five years but had a much longer association with the magazine than that—eighteen years, most of them as assistant editor for Connie and then Derk.
This issue features some fine fiction, beginning with a story by Craig Boyko called "If Clark Died." The story makes excellent use of the future tense and is, as the title suggests, a wilder and wilder imagining of the title's initial "If." Keith Fraser is a writer who ought to be better known than he is. He has steadily been writing very good fiction for years but hasn't received the recognition he deserves. His story, "The American Caller" explores complex relationships, culture, and entitlement in his usual, well-crafted way. There is a story by Amelia DeFalco—"Summer, Crook Lake" which begins, "Mark was wearing nothing but a fluorescent green bathing suit when I met him," and only gets better from there. The issue closes with one of Patricia Young's early forays into fiction, but the story seems like the work of someone who has been practising the craft of fiction for a very long time. "Seattle" will encourage you to never use the word "panties" in a sentence again. It is a wonderfully character-driven piece that somehow deftly manages to include vermouth, arts criticism, and Reveen, while being clever and moving.
As for poetry, there is a good batch in this issue. Starting with four poems from Jan Zwicky, including a lovely long-ish poem called "Nostalgia." The poem begins with an image of a mother in a nursing home and explores memory and love. There are also poems by Anne Compton, Barry Dempster, Jan Conn, and Naomi Guttman. If you're a Stephanie Bolster fan, you'll see some familiar work here, including "Brussels Zoo" and "Girl with a Pearl by Vermeer at the Zoo," and there are two excellent poems by Sina Queyras.
Perhaps there is some synchronicity in the fact that, as I write this look back at Marlene Cookshaw's final issue, John Barton, the editor to whom Marlene passed the baton (an orchestral baton or magic wand more than a runner's bar) and who has carried it marvellously these fourteen years, is about to pass the baton on as well. He gets an epoch all to himself. Who knows what the fourth epoch of Malahat will bring?
— Jay Ruzesky