Our Back Pages
Issue #189
Issue Date: December 2014
Editors: John Barton
Pages: 112
Number of contributors: 26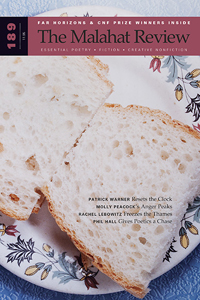 This somber winter issue revolves around themes of sacrifice and loss, featuring twenty-five works of prose and poetry that depict personal burdens and communal bonds in taut opposition. The cover's muted image of Frank Pimentel's Bread on Plate fittingly captures Malahat 189's complex layers of significance; the photograph evokes symbols of family, the home, and comfort but casts them under harsh light. The main image of the cover photo is most strikingly mirrored in Cynthia Flood's short story, "Food." Centred on two sisters' lunch together in their local deli, the story uses an adjacent family's squabble as a vehicle for commenting on guilty spectatorship, patriarchal limitations on women, and the divisiveness of world conflict.
Opening this issue is the winner of the 2014 Constance Rooke Creative Nonfiction Prize, Rebecca Foust's "Venn Diagrams," which explores the fragile concurrence of parallel lives in profoundly confessional prose. As a mother whose son is diagnosed with autism, Foust scaffolds her life around a structure of careful prediction and support. Faced with an outcome that she can't control, she questions that which lies beyond the boundaries of logic: "Tell me, who will love him, [when I am gone]?" Rachel Lebowitz's "The Last Frost Fair" similarly considers the transience of historical moments and the eternal arrogance of contemporary individuals, who so often take their own moment for granted.
Themes of loss and sacrifice, whether expected or remembered, dominate this issue's verse. In "Vincent, in the Dream of Zundert," which won the 2014 Far Horizons Award for Poetry, Laura Ritland versifies Vincent van Gogh's correspondence with his brother Theo. Ritland's rendering of the artist's reflection on his idyllic past as a pantoum, a highly recursive verse form, emulates both the tortuous patterns of van Gogh's deteriorating mind and the movement-in-stillness of his best work. Other notable works of poetry in this issue include three poems from Patrick Friesen that pursue the divine, two prose poems from Siobhán Scarry that touch on the cyclical recurrence of wonder, and "Mount Anger," Molly Peacock's metamorphic figuration of emotional turmoil.
Like "Food," this issue's remaining two short stories are concerned as much with what holds people together as with what drives them apart. Katherine Wagner's harrowing short story "They Were Children" depicts the violent consequences of hazing culture and the capacity of love to bridge generational and cultural divisions. Conversely, Jason Markowsky's "Pomelos Are Out of Season" reveals in painful detail the incompatibility of philanthropic selflessness and lasting love.
Closing out the issue are reviews of Jack Hodgins' Cadillac Cathedral (reviewed by the late Holley Rubinsky) and Kathy Page's Paradise & Elsewhere, among several others.
—Chris Horne