Our Back Pages
Issue #155
Issue Date: Summer 2006
Editor: John Barton
Pages: 112
Number of contributors: 21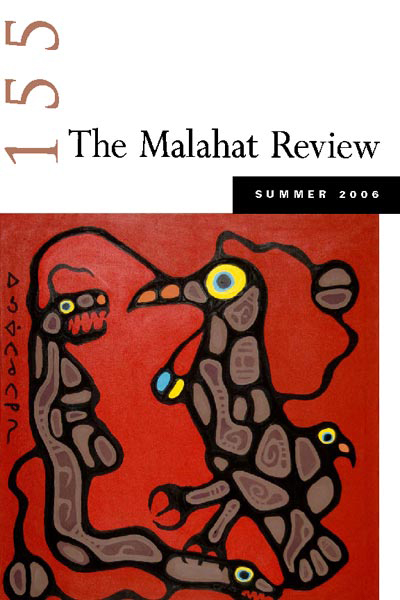 Half of this issue's pages are dedicated to Pauline Holdstock's story, "The World of Light Where We Live," which won the 2006 Novella Prize. Publishing a novella in a quarterly magazine is a risky business—it means that the competition for the remaining pages of the issue is fierce. I love the compact form of the novella and I wonder why it isn't the form for contemporary fiction. In this busy world of smart phones and too much information, it seems to me that a reader might take refuge in a novella, particularly because that reader might be able to get to the end of it in a week or two. A novella will have a brief period of residence in that stack of books on the bedside table, but then it will move on—a racoon to the other books' cats; a visitor, as a good book ought to be. However, there are few print venues for the novella and that is one of the reasons that Malahat's Novella Prize is important.
Whether you are a fan of the form of the novella or not, the winners of the prize have a history of providing some of the most compelling fiction in Malahat's pages and "The World of Light Where We Live" is no exception. It is an intense, page-turner of a story and was written (Holdstock says in an interview with Malahat's Samantha Ainsworth) for National Novel Writing Month. The pressure of writing so quickly may be one of the things that gives it such energy. The story has not since been published elsewhere so the only place readers will find it is in Malahat.
This issue opens with a generous serving of Anne Simpson poems. Each poem is, in some way, drowning, but all the poems employ varied techniques. The first poem, "A Woman, an Owl, a Boy" sets a haunting scene and then takes readers through it from different angles. There is a sequence called "Ocean, Ocean," which is built from prose poems that seem to be composed with a musical sensibility and each poem in the set has a "chorus" to invite reflection.
George Sipos's poem "Dawn Redwood" plays with seriousness and humour at the same time in the way that Don McKay's poems often do, and the attention Sipos pays to the trees and the rest of the natural ecology suggests that he wouldn't mind me comparing.
There are three poems by Erin Knight. The first is my favourite. Called "The Sight," it begins, "Some children and corvids have it. / Women who lived by the sea were often / touched by it" and continues in a magical way. Other poets represented in these pages are Ingrid Ruthig, Lisa Martin-DeMoor, Isabel Huggan, Craig Poile, Jann Conn, Steve McOrmond, and Carolyn Marie Squaid.
— Jay Ruzesky 
Read Samantha Ainsworth's Interview with Pauline Holdstock
Have a look at our last featured issue, issue #144
Have a look at our next featured issue, issue #159