The 50 Issues Project
To celebrate the University of Victoria's 50th anniversary in 2012–13, The Malahat Review has highlighted 50 of the finest issues from its backlist, which stretches back to January 1967. The magazine is almost as old (and mature) as the university.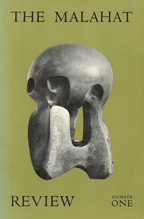 Over the course of 50 weeks, the Malahat showcased one issue on its website with an informative thumbnail description of its contents. Discoveries no doubt will abound:
Early work by contributors who would later be counted among Canada's and the world's most famous authors
Poetry, fiction, and creative nonfiction that went on to win national and international awards for magazine writing
Interesting essays and other articles on subjects as diverse as George Orwell, Austrian poets, and, yes, Margaret Atwood
The possibility for surprise is no doubt endless—as is the inevitability of becoming reacquainted with a poem or short story that you may even have read when it first appeared in the magazine.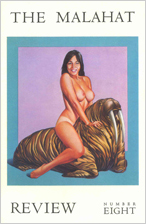 Each of the 50 Issues Project profiles is written and signed by members of the extended Malahat Review family, including staff and volunteers, University of Victoria students and alumni, faculty, and passionate readers of the magazine from off campus.
If you're interested in reading one of the issues, most of them are available for sale. Please note prices will vary, depending on how long ago an issue was published as well as its scarcity. Contact us to order if pricing is not available on our website.
Have a look at the issues we featured:
Issue #1, January 1967
Issue #5, January 1968
Issue #8, October 1968
Issue #11, July 1969
Issue #17, January, 1971
Issue #20, October, 1971
Issue #21, January, 1972
Issue #26, April, 1973
Issue #31, July, 1974
Issue #33, January, 1975
Issue #35, July, 1975
Issue #41, January, 1977
Issue #45, January, 1978
Issue #50, April, 1979
Issue #59, July, 1981
Issue #60, October, 1981
Issue #63, October, 1982
Issue #67, February, 1984
Issue #72, September, 1985
Issue #73, January, 1986
Issue #76, September, 1986
Issue #79, June, 1987
Issue #84, Fall, 1988
Issue #87, June, 1989
Issue #92, September, 1990
Issue #100, September, 1992
Issue #104, September, 1993
Issue #105, Winter, 1993
Issue #107, Summer, 1994
Issue #112, Fall, 1995
Issue #113, Winter, 1995
Issue #117, Winter, 1996
Issue #121, Winter, 1997
Issue #125, Winter, 1998
Issue #127, Summer, 1999
Issue #128, Fall, 1999
Issue #135, Summer, 2001
Issue #140, Fall, 2002
Issue #142, Spring, 2003
Issue #144, Fall, 2003
Issue #151, Summer, 2005
Issue #159, Summer, 2007
Issue #160, Fall, 2007
Issue #163, Summer, 2008
Issue #177, Winter, 2011
Issue #180, Fall, 2012