Our Back Pages
Issue #187
Issue Date: Summer 2014
Editors: John Barton
Pages: 112
Number of contributors: 20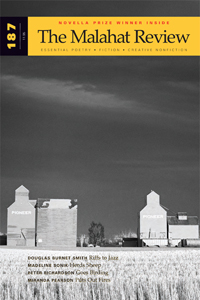 This issue begins with a healthy selection of poems by Jan Zwicky and ends with a healthy selection of poems by Douglas Burnet Smith. In both cases, readers get a chance to spend several pages with each poet and get a good sense of the attentions of their current work. Zwicky's poems are steeped in memory and landscape. She examines the Alberta foothills of her past and what it is like going back there after the death of her father. She imagines, or maybe reimagines, "the explosion of the sunset at the line fence, and the mane of hail / above the muskeg; the thunderheads, their silence."
Smith's poems move in the opposite direction—out of Canada to Havana and Sarajevo. He is a poet trying to understand how he fits in to the new worlds in which he finds himself.
Miranda Pearson, Richard Capling, Peter Richardson, Sarah Bernstein, Cassidy McFadzean, Michael Maegher, and Anne Compton also have poems in this issue.
Malahat 187 features the winner of the 2014 Novella Prize: "Mask" by Dora Dueck. The story is what a novella should be. The writing has the breadth of a novel, but is compressed into a tighter space, which renders the emotions of the piece in a concentrated, potent way. The story is told from the point of view of Jane, a young woman whose father returns from the First World War with catastrophic facial wounds. He wears a mask, the purpose of which is mostly to protect others from the trauma of his injuries. Jane catches a glimpse of him without his mask and that brief vision becomes a centre around which her thoughts about the life of her father revolve. The perspective of the story is what makes it powerful. The underlying message is about the collateral effects of war, and hearing the story from the daughter's vantage point expands the reader's sense of how deeply generations can feel the impact of a war.
Christopher Gudgeon's short story, "Still Life with Dust and Birds" is as charming as it is tragic. It is literally a whirlwind of a narrative. It takes place in North American at the beginning of what seems to be an environmental apocalypse. Amid the ravages of severe dust storms that cannot be easily explained. Despite the fact that "Chicago and Boston have seen up to nine inches of dust accumulate overnight," Andrew and Michael ponder the wisdom of going ahead with the preparations for their same-sex marriage. Birds of all sorts (largely dead birds thanks to the dust) become a central metaphor in the story.
The creative nonfiction offering in the issue is an essay by Madeline Sonik called "Dead Ewes," which is a meditation on an encounter, not with expired sheep, but with (I'm not giving anything away in terms of the title's subject annunciated with a thick accent) Ted Hughes in the 1970s.
 — Jay Ruzesky