Our Back Pages
Issue 95
Issue Date: Summer 1991
Editor: Constance Rooke
Pages: 131
Number of contributors: 23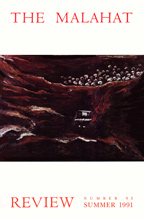 Welcome to our show for September, 1991. We've gathered together a panel of Canadian literary magazines, all of which, as a collective, have contributed to the astonishing growth of Canadian literature since the Massey Commission Report of June 1951. Over here we have The Fiddlehead, the grandfather of the bunch—established in 1945; we have Prairie Fire, representing the culture of the Canadian mid-west; Brick magazine, the smart little pamphlet that is about to bring out The Brick Reader, exciting for them and for us, no doubt. We have Event magazine from the bustling metropolis of Vancouver, and, on the far edge of the country (and some would say the far edge of reality) we have The Malahat Review.
Now, the literary magazines on our panel think they've been invited here for a discussion on the state of literary publishing in Canada in 1991. What a boring topic that would be folks. Things have never been better! What's to talk about? So I'm going to go and shake hands with The Malahat Review.
Hello Malahat. Now, you've been around since 1967. You've reached out internationally and now have a focus on Canadian writing. Some would say you're the envy of the block and that you are the leading literary journal in the country. Well, what we would say is… The Malahat Review — THIS is YOUR life! (applause). 
I know. You're surprised and humbled and all that, but let's get on with it. Your current issue is a good representation of what you've been doing so well all these years. The cover features a painting by Enzo Cucchi—the Italian artist who is literally making waves with his sculpture at York University right now. Inside, there is the usual rich mix of Canadian and international writers. We have some poems by Derk Wynand, who manages to write about mowing the lawn and to make it moving: "We must be, as stable now / that the electrons in our heads / are spinning clockwise like his." Wowie. You know, if you're ever looking for a new editor, that guy would make a good candidate. You heard it here first folks. Your old friend, poet Tom Wayman is here too, getting more lyrical and less political than he's been lately.
There is a fabulous story called "Stone" by George McWhirter, and strong fiction by New Yorkers Caroline Keppel and Ann Darby. You remember Jan Thornhill, the children's writer? Here, she shows she can write Ontario gothic fiction that would send Casey and Finnegan to cower in the dark winter corners of the dog house.
Ah, Malahat, look where you've been; barely twenty-four and yet you've done so much already. Just imagine where you'll go from here. Just imagine.
—Jay Ruzesky