Our Back Pages
Issue #176
Issue Date: September 2011
Editors: John Barton
Pages: 110
Number of contributors: 25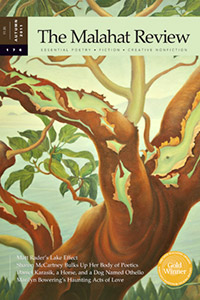 With Arbutus Shedding Bark by W.P. Weston (1879-1967) on its cover, this Autumn issue fittingly evokes and sustains a sense of metamorphosis. Featuring twenty-seven poems, four short stories, and a solitary creative nonfiction piece, the issue flows effortlessly through a myriad of colourful forms, juxtaposing its pieces to manifest a continuous anticipation of change. A tone of uncertainty—sometimes eerie, sometimes hopeful—bleeds throughout.
At the core of this issue is the year's Far Horizons Award for Short Fiction winner, "Next Year, For Sure" by Zoey Peterson, whose fiction has been anthologized in The Journey Prize Stories and Best Canadian Stories. Her piece, now adapted into a full-length novel of the same name (Scribner, 2017), displays with intimate familiarity the tentative passions of a couple experimenting with polyamory. The story's closing scene, as they kayak in tandem, captures their enduring trust in each other as they navigate unfamiliar landscape: "They turn back, unsure of how far they've gone. They take turns paddling, and sometimes let themselves float along."
Two other notable pieces of short fiction in this issue are Daniel Karasik's "Witness," an account of a young author's contemplative late-night stroll as it takes a turn for the surreal (the story won Karasik the 2012 Jack Hodgins Award for Short Fiction), and Matt Rader's "By the Lake," which depicts the resounding silence that falls on two friends after they commit an unspeakable act of violence.
As for poetry, this issue includes Craig Poile's ruminations on shedding childhood innocence, "The Devils" and "Phaeton," and Bren Simmers's "After the Break-In," a poem that, like the soft, new bark of the arbutus, is tender to the touch. On the other side of the poetic spectrum lie—or rather, run (see "Cardio")—four poems by Sharon McCartney about disciplining the mind to transform the body. Starkly contrasting these are Marilyn Bowering's ethereal poems, "14 Washington Place" and an untitled second, both of which strive to affirm love in the face of tragic realities. Also in this vein, "Medical Devices" by Marcus McCann (who has since published two books of poetry and won the E. J. Pratt Medal) intuits the conditions of a fading love in the lifelike touch of the title's inanimate "devices."
Standing out as the only creative nonfiction piece in this issue, Hadley Carpenter's "In Transit" recounts his chilling encounter with a herald of death while on vacation in Alabama—an experience that sparks his newfound appreciation for simple liberties. Equally free (but here, with praise) the reviews section features multi-award-winning author Michael Kenyon's takes on Sharon Thesen's Oyama Pink Shade and Anne Simpson's Is, and includes commentary by Ian Letourneau, Rita Donovan, and Harold Hoefle.
—Chris Horne