Our Back Pages
Issue #192
Issue Date: Autumn 2015
Editors: John Barton
Pages: 112
Number of contributors: 29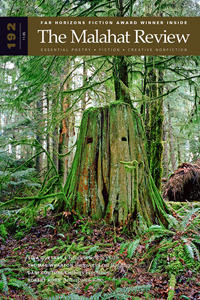 Mark Rogers won the Far Horizons Award for Short Fiction and his story "Heaven and Back Again, or The Goddit" opens this issue. It's a story that explores parental fear through a father's consciousness, and there is a fabulous energy that compels readers through the piece.
Sina Queyras' poems "The Rabbit Catcher" and "Thalidomide" are powerful. She uses language the way Sugar Ray used his fists, and there is a kind of beauty to the fast jabs of thought. If you grew up in the twentieth century, you know what Thalidomide is, so when she says
I tuck my doubts like glass seeds
Into the folds of our future, lick
Your knees and feet. I am only trying
To sleep…
you imagine the friends you had whose bodies were shaped by that particular drug and remember how you felt when you first met them.
"Home Range" by J.R. McConvey is the story of a single-dad dockworker who gets a big surprise. There's a twist at the end of the story that is, let's say, unexpected. Other stories include "Landing" by Thomas Wharton, and "Jane Doe" by Joshua James Edgar.
The creative nonfiction in this issue is diverse. There are three short pieces from Yiddish Stories by Alex Leslie that incorporate magical elements while wrestling with subjects like ancestry.com and Winnipeg. Robert Horn's "The Rains Come Suddenly in Africa" is accurately titled, and Magie Dominic's charming "Wherever I Look I See Images" could instead be called "A Newfoundlander in New York."
Notable in the poetry selection in this issue are the late Joe Rosenblatt's poems from his "Green Man" series. A parallel interview on the Malahat website explores the Green Man theme in more detail. Joelle Barron's "The Women Hikers of Halfmoon Bay" is a wonderful feminist anthem, Sean Kilpatrick's "Ennui" is darkly funny with lines like "My resume was toilet-sized, non-ironically equipped" and "I'm Sorry called to wipe her ennui / on my inability to end it." Matt Robinson has two poems in the issue: "Car Accident on the First Day of the New Year" and "Harbour", and there are also poems by Dani Couture, Stephanie Warner, Jennifer Houle, Bardia Sinaee, Ali Sohail, Jann Conn, Mallory Tater, and Stevie Howell.
— Jay Ruzesky