Our Back Pages
Issue #143
Issue Date: Summer 2003
Editor: Marlene Cookshaw
Pages: 128
Number of contributors: 18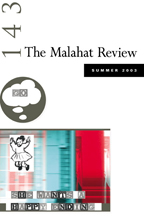 Central to this issue are the two winners of the Malahat's 2003 Long Poem Prize. Roseanne S. Carrara's "Kenotaphion" is comprised of nine carefully crafted parts that draw their inspiration from the Bible, especially verses from the New Testament, and quotations from Shakespeare's Pericles. While it's easy to enjoy the lush imagery and language predominate in these individual poems, readers would perhaps benefit having familiarity with the source materials to fully appreciate the nuances. The co-winner, "Olaus Magnus, Carta Marina," by Ann Fisher-Wirth is marginally more accessible. The Carta Marina, a map that "presents a fairly accurate picture of Sweden and its neighbouring countries," was completed by Swedish historian Olaus Magnus in 1539 after twelve years' labour. The long poem's composite parts are playful, at times almost experimental, studies of the map and its maker.
The editors have also included an excerpt from "Home is Paris, 1959," by Jesse Lee Kercheval, which was an honorable mention for the Long Poem Prize. Personally, I would have loved to have been able to read the entire work, but the two pieces represented, "Life Considered as the 13 Locks of Le Canal St Martin" and "Grief in Paris," which open the issue, captivated me with their originality and elegance. Other poets represented include Robyn Sarah, Michael Reynolds, and Terence Young, with prose poems from Joe Denham and A. Mary Murphy.
The issue's highlight, for me, was the remarkable story titled "Stealing Flowers," by Gavin O'Neill. His bio note says only that he was living in Eugene, Oregon, that this was his first published story, and that it's dedicated to his parents. The writing is assured and deft as he weaves an almost dystopian tale of what happens when an emotionally disturbed rebel is sent to live in a cult-like compound that is half hippie-haven and half concentration camp. He quickly recruits two other teens, ripe for adventure, into forbidden activities that include contraband Pepsi and night raids on the gardens of the nearby town to collect flowers. The stolen blooms are then ritualistically buried in a secret location on the grounds of the strangely named Petaluma Retreat – where no flowers are allowed. This is a story that would make even Margaret Atwood envious.
The reviews section contains an in-depth consideration by Mitchell Parry of Tim Lilburn's sixth poetry collection, Kill-site. Parry admits that Lilburn's "dense and difficult poetry," while challenging, makes him "want to understand" and that "Lilburn pulls that desire from the reader with language never pretty but always exact: his widening circles over the foothills mimic our own reading and re-reading."
—Rhonda Batchelor