Our Back Pages
Issue #169
Issue Date: Winter 2009
Editor: John Barton
Pages: 128
Number of contributors: 26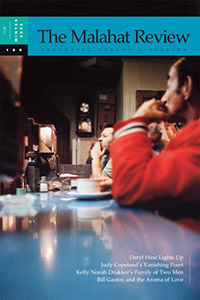 There is something about the way the world is revealed in winter by its light—weak, delicate, muted—that compels us to reveal ourselves. The starkness of a landscape under snow is an invitation to introspection. Trees without leaves, earth without grass, and air without warmth: winter is a time for waiting. Winter is a time for writing.
In this issue's Creative Nonfiction Prize-winning, "Where Sea Meets Sky," Judy Copeland takes us through the transition from fall to winter in postwar Fukuoka, where she spent her childhood and where "the snow always melted before it hit the ground." The drama of her childhood is the discovery of both the limitations of personhood and the limitlessness of otherness, of "wanting to hold infinity in my hands like an empty room." Her story is that of a desire to be in the distance.
In the dullness of winter days, writers may also be compelled to exchange their own lives—their own dullness—for the lives of others. Anna Smith imagines the sexual exploits of Billy Bishop, WWI flying ace; Susan Steudel reframes Captain James Cook's quest for the Northwest Passage; George Elliott Clarke invokes Charles Mingus to tell his own life story. In her poem "The Burning House," Kelly Norah Drukker speaks as American writer Paul Monette and his long-time partner Roger Horwitz. In a letter between the two men, another time and another weather is remembered: "By the monuments of Greece, with the sun-chain wrapping around us— / We looked into the eyes of the sun at Knossos. Saw none of this." Even during the blue season, a lover (a writer) can make Crete appear.
Other lovers in other stories endure their own private winters. Against the landscape of Lubbock, Texas—a place the narrator describes as "bring[ing] to mind the incinerating wind that accompanies nuclear detonation"—the couple in Brett Josef Grubisic's "The Contender" struggles to de-ice their marriage. In Bill Gaston's story "Petterick," a hot shower remedies the protagonist's isolation.
Poet Daryl Hine, who died in August 2012, reminds us in an excerpt from his serial poem "&": "Time's business is passing." Winter does not last forever; crocuses are the first evidence of this. Renewal is winter's bookend. Looking out her west-facing window, the speaker in Jan Zwicky's "Autobiography" laments her commitment to dying, to death:
Such injustice. When every morning
it's spring again. Every morning
the light melts the snow—
before books, before desks, before windows,
before pain, before amazement.
Weakly, delicately, mutely; winter light leaves us to bring us spring.
The Malahat would also like to acknowledge the passing of poet Kildare Dobbs in April 2013, whose poem "It" appeared in this issue.
—Alana Friend Lettner