Our Back Pages
Issue 103
Issue Date: Summer 1993
Editor: Derk Wynand
Associate Editor: Marlene Cookshaw
Assistant Editor: Lucy Bashford
Pages: 128
Number of contributors: 22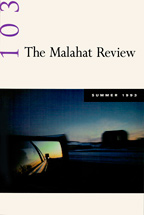 This issue is anchored by a remarkable final piece. Closing the magazine, we find a 16-page, four-part long story by Steven Heighton. "To Everything a Season" is the work of a confident, assured writer. Heighton had just been named a finalist for the Journey Prize the previous year, and received a National Magazine Award for fiction. In the decades since this publication, he has released works of poetry, essays, and fiction, and has been widely recognized for his work, including with a Governor General's Award for Poetry in 2016. "To Everything a Season" offers four linked sections/stories, all concerning various members of the same family. Connecting the four seasons with stages of life, he moves easily amongst various intimate relationships, exploring pivotal moments for each of four couples by asking "How does it happen for the last time? The lovemaking. Two bodies joining once, twice, a thousand times, then never again. How?" With this experience as a recurring point, he touches on issues of aging, intimacy, departure, and death. It's a moving piece, one to really linger with.
The issue also includes the two winning entries in the Malahat's 1993 Long Poem Prize: the collaborative writing group Pain Not Bread, comprised of Roo Borson, Andy Patton, and Kim Maltman, won for their piece "Introduction to the Introduction to Wang Wei," as did Matthew Remski, for his poem "First Sorrowful Mystery." Pain Not Bread's exceptional long poem weaves together criticism, poetry, history, and of course the three authorial voices, to make a swirling, dreamy work, which grew and developed after this publication: in 2000, Brick Books published a standalone text of this poetry, with the authors' introduction and commentary.
An early piece by Michael Winter also appears; Winter was at the beginning of his career at this point, and less than 30 years old. His first collection of stories was a year away from publication; his work has gone on to be long- and short-listed for the Giller Prize. Other short fiction includes a piece by Rudy Weibe and an arresting short-short story by Betsey Trumpener, who biographical note indicates that this is her first published fiction. Trumpener is now perhaps best known as a CBC reporter, writer, and host. Her first book, a collection of stories, appeared in 2008.
In the reviews section, Jamie Dopp and Heidi Von Born take it in turns to cover poetry by Phil Hall and Elisabeth Harvor, and fiction by Elizabeth Hay, Anne Montagnes, Daniel Jones, and Michael Kenyon.
—Micaela Maftei