Our Back Pages
Issue #167
Issue Date: Summer 2009
Editor: John Barton
Pages: 128
Number of contributors: 24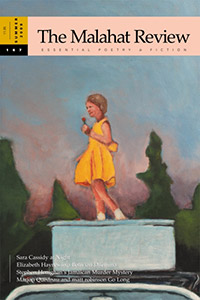 This summer issue features co-winners of the Long Poem Prize: Marion Quednau (British Columbia), and Matt Robinson (Nova Scotia). Quednau's poem, "Paradise, Later Years," is now the title piece for her new collection of poems published by Caitlin Press (Fall 2018). Robinson's winning poem, "Against the Hard Angle," has also served him well. Greenboathouse Press published it as a chapbook in 2009, and it is also the title for his 2010 book of poems from ECW Press. Other poems in the issue are by P.K. Page, Barry Butson, Anne Compton, Susanne Kort, Ruth Johnston, Lynne Burnett, Katherine Leyton, Patrick Walsh, Matthew Godden, Mark Abley, and Sara Cassidy.
I was intrigued by Alberta writer Elizabeth Haynes' story, "The Alchemist." It is introduced with a quote from the Lonely Planet website: WARNING: Women tourists should not in any circumstances take tours on their own or in pairs with independent guides but should stick to large group tours run by reputable agencies. The story then opens with a young woman drifting down the Mamore River in Eastern Bolivia with a guide whose only credential is that he is the brother of the woman who owns the hostel where she stayed. There is more fine fiction: "Bites" by Randy Devita, "Remains" by Jane Finlayson, and "Who Killed Martin Coombs?" by Stephen Henighan.
Jay Ruzesky reviews the second book in a trilogy of collected essays from Touchwood editions: Nobody's Father: Life Without Kids (2008), edited by Lynne Van Luven (Professor Emeritus, University of Victoria Writing Program), and Bruce Gillespie (Associate Professor in Journalism, Wilfred Laurier University, Brantford Campus). Together they also edited, Somebody's Child: Stories About Adoption (2011); and Van Luven was the sole editor of the first book in the trilogy, Nobody's Mother (2006). Ruzesky writes of Nobody's Father, "I expected this book to be a well-written meditation on not having children (which it is) and expected a number of rationalizations for avoiding procreation (which there are); what I did not expect was to be so moved by the candour of so many of the pieces."
I'll end on a conspiratorial note with the first two lines of Quednau's winning poem:
I. I am popular with animals
They approach the kitchen at dawn, in cahoots,
Malahat always seems to be in "cahoots" (such a great word) with its readers, leading us into places we might never have otherwise ventured.
—Lucy Bashford