2022 Novella Prize Winner:
Jenny Ferguson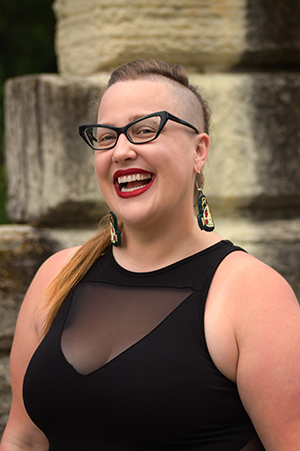 Congratulations to Jenny Ferguson, whose story "Missing" has won the 2022 Novella Prize!
Jenny Ferguson's entry was chosen from 168 submissions. She has been awarded $2,000 in prize money, and her novella will be published in the summer 2022 issue #219 of The Malahat Review.
Here's what judges Alix Hawley and Rebecca Păpucaru had to say about the winning story:
"Missing" is a powerful exposure of urban lives, capturing the terrifying freedom and anonymity that so many young women can experience in a large city like Toronto. The novella follows two night-shift nurses and roommates who seek release from burn-out in the city's bars and clubs. The author's daring narrative and structural choices mirror the double standard that still haunts sexually active women, as an uneasy one-night stand has chilling consequences for both women and their families. The story confidently depicts a complicated reality and the long aftermath of a terrifying incident.
Jenny Ferguson (she/her) is Métis and white, an activist, a feminist, an auntie, and an accomplice armed with a PhD in English and Creative Writing. She believes writing, teaching and beading are political acts. Her debut YA novel The Summer of Bitter and Sweet is out now from Heartdrum/HarperCollins and her novel-in-flashes, Border Markers, is available from NeWest Press. In 2023, Heartdrum will be publishing her second YA novel, currently untitled. She is starting as an Assistant Professor in English at Coe College this fall and will be moving to Cedar Rapids, Iowa where she will teach creative writing. 
Look for an interview with Jenny in our July Malahat lite e-newsletter.
We would also like to congratulate the 2022 Novella Prize finalists:
Kevin Fournier, "It is what it is"
Zilla Jones, "Two Years of My Life"
Ceilidh Michelle, "Living Waters"
Theresa Moritz, "Jenny August at 50"
Carey Rudisill, "How People Live"
Aaron Shepard, "Abalone"

Thank you to judges Alix Hawley and Rebecca Păpucaru for their work. And thank you to our volunteers and to all who entered the contest!

The Malahat Review's Novella Prize runs every other year, alternating with the Long Poem Prize. The deadline for the next Novella Prize is February 1, 2024.