All Storytelling: L'Amour Lisik in Conversation with Jenny Ferguson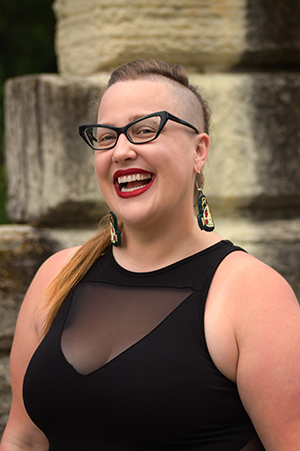 Managing Editor L'Amour Lisik talks with Jenny Ferguson, winner of the 2022 Novella Prize with her story, "Missing." They discuss writing as revision, transforming a novel into a novella, and taking care of yourself in order to face rejection in the writing world.
Jenny Ferguson (she/her) is Métis and white, an activist, a feminist, an auntie, and an accomplice armed with a PhD in English and Creative Writing. She believes writing, teaching and beading are political acts. Her debut YA novel The Summer of Bitter and Sweet is out now from Heartdrum/HarperCollins and her novel-in-flashes, Border Markers, is available from NeWest Press. In 2023, Heartdrum will be publishing her second YA novel, currently untitled. She is starting as an Assistant Professor in English at Coe College this fall and will be moving to Cedar Rapids, Iowa where she will teach creative writing.
Read what judges Alix Hawley and Rebecca Păpucaru had to say about her winning story.

Congratulations on winning the 2022 Novella Prize! "Missing" is a rich and suspenseful story about friendship, love, illness, trauma, violent cops, and a missing Indigenous woman. The novella form is somewhat rare in the literary world. What drew you to this form for this particular story, and what made you choose to tell it in reverse chronological order?
Ah, thank you!

So funny story, for the longest time, I was actively opposed to calling "Missing" a novella. It was probably some novel snobbery. You know, novels are best and all that jazz. This novella is one of four intertwined narratives in an unpublished book about the Missing and Murdered Indigenous Women, Girls and Two-Spirit Human Rights Crisis. And when agents rejected that novel, I put the project aside for a long while. As in, I wrote "Missing" in 2015. So, it's been a minute.

Eventually, I realized that yes, "Missing" is a novella. Might do better as one. It's a very intense story, both in its subject matter, but also in the telling. It's a story that would be really heavy to approach in a full-length novel (and yes, that's pretty much how I see the novel-length project now—that for readers, especially for white readers, it's too much). But happily, the novella form is one where intensities are welcomed.

When it comes to the reverse chronological order, this choice underscores almost all the themes in "Missing." But, maybe, it's most important here: that Wendy (a white twenty-something woman with a recent terminal diagnosis) is too caught up in her own life, her new romance, her past and present traumas, to notice what changes in the months leading up to her best friend and roommate, Ida, a twenty-something Inuk-Cree woman's disappearance. The form is about the desire for hindsight, as if being able to see in that way would unlock missing evidences, would unlock the unknowable mysteries of our lives.
Though "Missing" is fictional, the harassment and violence inflicted on Ida and Wendy by the cop and his friends echoes real life. At one point, Ida is taken for a 'starlight tour' by "the cop's friends […] forty kilometres out of the city, and left by the side of the road, next to a field." Since you also write creative nonfiction, do the two genres influence each other in your work? Were there parts of "Missing" that you found difficult to write?
I'm pretty sure that everything I write, whether it's CNF or fiction for a YA audience or an adult literary novella like "Missing" are all influenced by each other. I struggle with the idea that genres are as separate as publishing and academia would have us think. It's all storytelling to me.

Um, yes. All of it? I'm an empath and I feel the whole world incredibly intensely all the time. On the one hand, this probably makes me a better writer, in some aspects. You know, accessing a character's emotions or considering a subject with nuance. On the other hand, this does a number on my mental health if I'm not being very vigilant—and, even if I am, it usually hurts me. Sometimes I wish I could be happy writing Kindle Unlimited universe romance novels! But that's not where my storytelling leads me.
As a writing professor, do you have any advice for emerging writers? What advice would you have benefited from before you first sent your work out?
I think both of these are the same thing: take care of yourself so that you are in the best possible position to face the constant rejection that comes with making your life as an author. Even after you sell books for big monies, you will get rejected. The rejection happens in many ways: when no one shows up to your book event, when an editor you've previously worked with passes on your new project, when you send a short story to a literary magazine, when someone who you thought a friend drops you when their book hits the NYT list.

Writing is hard work and the business around writing is full of rejection. And if you're a marginalized writer, you'll face rejections and other kinds of hell, too. So, take care of yourself, in order that you can keep writing.

And if you want to quit, quit.

I've done it a number of times, once for almost five years.

You can quit. You can also change your mind later.
You've recently published two books (YA novel The Summer of Bitter and Sweet from Heartdrum/HarperCollins and novel-in-flashes Border Markers from NeWest Press), with a third on the way in 2023. What does your writing practice look like when working on a book-length project? How do you stay focused long-term?
I'm a binge writer. This is pretty consistent across projects, whether they are flash fiction or a novel.

I need a good amount of open time, where I have no other responsibilities, to sink into writing. I wrote the first half of The Summer of Bitter and Sweet, for example, in a week, while I was in Labastide-Esparbairenque, France, a very, very tiny town, where you can't buy a Coke or Snickers or tampons because the town has nothing. It's gorgeous and a great place to get writing done because there are no distractions at the writing retreat.

So I try to empty out my time and create or find space where the distractions of everyday life are at a minimum, and write, write, write. I try to write as sloppy a first draft as I can—recognizing that if you don't have words on the page, you can't revise. And writing is revision.

This can be really hard to do if you are responsible for, say, keeping your children alive or if you don't have vacation time at your job. But this is what I need to write. The last time I did a good binge session I was in Covid entry requirement quarantine in rural NS for two weeks, and, yes, I made the best of my experience. But if you can't find two weeks, that's okay. Find two days you can protect and start from there.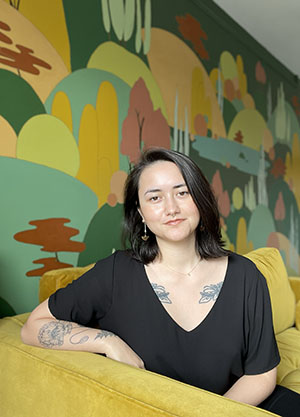 L'Amour Lisik
* * * * * * * *