Untold Histories: Lauren DeGaine
in Conversation with Carolyn Smart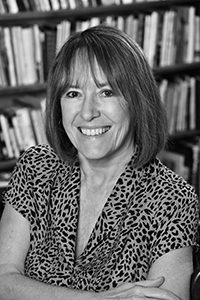 Malahat volunteer Lauren DeGaine talks with Far Horizons Award for Poetry judge Carolyn Smart about the possibilities of poetry, creative processes, and tough competition.
Carolyn Smart has written six collections of poetry including Careen (Brick Books, 2015), Hooked - Seven Poems (Brick Books, 2009) – described by Alan Radcliffe in The London Times as "intense, at times alarmingly close to the bone, but highly accomplished," and The Way to Come Home (Brick Books, 1993). An excerpt from her memoir At the End of the Day (Penumbra Press, 2001) won first prize in the 1993 CBC Literary Contest. She is the founder of the RBC Bronwen Wallace Award for Emerging Writers, poetry editor for the MacLennan Series of McGill-Queen's Press, and since 1989 has taught Creative Writing at Queen's University.
Click here for details on entering the Far Horizons contest.
What types of poetry attract and interest you currently? Is there anything specific you look for or notice when reading a poem— whether it's a student's work, or a submission to a contests like Far Horizons?
I look for poems that feel honest, emotionally generous, and surprise with originality of imagery and language. I am constantly impressed by what I see from my students and know how much excellent work is out there, waiting to be shared.
Do you have any advice for folks who are submitting their poetry to contests or literary magazines?
You should do the research before submitting anywhere: look at what the magazine publishes, what particular styles and content speaks to the editors, what fulfils the mandate of the particular publication, and see where best your own work fits. The same notion applies to contests. The competition is tough, and it's wise to go into the application for the experience alone, though winning (and acceptance for publication) is undeniably strong validation of a writer's work, and a confidence-builder.
Your book Careen — written from the characters' perspectives and including newspaper articles — is an incredibly unique response to the legend of Bonnie and Clyde. Why did you decide to use that form, and what was it about the collision of history and poetry that inspired you to write that book?
I've been writing persona poems for more than a decade, and am specially drawn to reveal the untold histories, risky tales of the marginalised. Having written the voices of seven historical women in "Hooked" (Brick Books, 2009) I challenged myself with "Careen" (Brick Books, 2015) by writing a multi-voiced historical narrative which also employed dialect. Many people know the story of Bonnie Parker and Clyde Barrow from watching the 1968 film "Bonnie and Clyde" but when I read a recent biography of the pair it was clear that the film didn't tell the true story of their arduous lives or the desperation and poverty that they came from. That's what drew me to the narrative. That level of desire, coupled with their youth and endurance. Poetry can do just about anything, and that's why I love it so much.
Can you tell us about your current writing project(s)?
Without going into any detail that might defuse the project, I'll simply say that I've returned to personal history and am writing a series of poems in many different forms. It's taking me back to my roots as a confessional poet.
What is your creative process like? Do you have any favourite prompts or exercises?
I live in an isolated spot in rural eastern Ontario which offers me silence and privacy. I walk in the woods to clear my head, to listen to the wind in the trees and watch for animal behaviours. Then I return to my writing room and I plunge into language, trying hard not to self-censor or settle for second best. I don't work with prompts when I have a project at hand, but I surround myself with visual images relating to the work and they help to unlock my imagination. When blocked I go back to my favourite poets and reread the work that made my head explode with the possibilities of language years ago. That still happens, with the work I loved as a young woman, and the new work I see every day.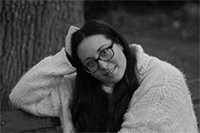 Lauren DeGaine
* * * * * * * *