As a recent Friend, Nancy Davies was excited to be interviewed for our November 2013 'Friends' edition of Malahat lite. Volunteer Heike Lettrari asked her a few questions on life, writing, and some of the benefits of being a Friend.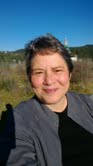 HL: So if you're not the Nancy Davies of Toyota's VP of Logistics Services, tell us who you are, and a bit about yourself: how long have you been on the West Coast, and what drew you to The Malahat Review?
ND: I took English at UVic in the mid seventies. The Malahat Review was just beginning, the feminist movement was in full swing, and so was the discussion on Canadian literature. I remember essay topics like "What is Canadian literature? Does it even exist? Can something be universal if it is merely regional?" Books like Margaret Atwood's The Edible Woman were considered by some to be feminist palaver, and Alice Munro's Lives of Girls and Women the dabbling of a housewife. Wow! How times have changed. I moved from Victoria to Vancouver in the early eighties and returned to the island a few years ago.
Read the rest of Nancy's interview on our website.

Cave Drawings as a Newsfeed from the Prehistoric World: John Barton in Conversation with Concetta Principe
JB: "Theses on the Philosophy of Waiting" is a textured, 10-part poem about the Chauvet Cave in France, an archeological site known for its primitive cave drawings. Your response to it is not a direct one, but is filtered through German director Werner Herzog's recent documentary, Cave of Forgotten Dreams. As I understand it, the French government has sealed off the cave from the public in order to protect it. Can you shed some light on why you found the cave and the film so compelling?
CP: I saw the film with my son in the afternoon of a hot summer day and the theatre was freezing. It was also very dark. This environment somehow amplified the experience of discovering the cave paintings through Herzog's 3D film. In the movie, the archaeological investigation of the cave became secondary to the phenomenon of the ancient art. There were so many layers of images across the cave walls that you could almost trace the dialogue the ancient artists had with each other through their paintings. What compelled these artists to draw these images? What caused animals, perhaps bears who also inhabited the cave, to claw at the drawings on the walls? Why were there animal bones everywhere and not one human bone?
Read the rest of Concetta's interview on our website.

James Joyce and B.C. Ferries: stephen leckie in Conversation with Matt Rader
sl: So, how much fun did you have with Joyce on B.C. Ferries?
MR: He's an inscrutable sort. Difficult. He knew all my best lines and everything I was going to say next.
sl: What is the allure toward writing about a dead author?
MR: At some point, when I was younger, I realized it was crazy to live on the West Coast and not write about trees. I was born and raised on Vancouver Island and the place is literally covered in trees. Same with the sea. These are major presences in my life. Likewise, after nearly twenty years of reading and writing seriously, writers and literature have become unavoidable subjects. That Joyce is dead is a stroke of luck. Mary Ruefle has said a living poet can't teach you anything but a dead poet can teach you everything.
Read the rest of Matt's interview on our website.
Q&A with The Bookshelf (Guelph, Ontario)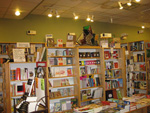 If you're ever in Guelph, be sure to check out The Bookshelf: it's a bookstore, cinema, and restaurant, all in one! Our Social Media, Marketing & Circulation Manager, PJ Grace, spoke with Bookshelf owner Barb Minett about one of Ontario's oldest indie bookstores.
PG: Can you talk a bit about The Bookshelf, and its history as a bookseller? What's the scoop with the cinema and the restaurant?
BM: Barb & Doug Minett started the Bookshelf in 1973 after visiting Britain and relishing all of the British bookstores. I was a teacher who knew that it wasn't really the correct profession for me, and Doug was a student who really needed to be an entrepreneur. Publishers told us that there were enough bookstores in Guelph.  After moving locations twice, we opened upthe first bookstore café in Canada in 1973. Then in 1980 we followed our passions and started what we still believe to be the only bookstore, café, cinema and bar in the world. Books, food, movie, and drink; What could be better?