Where To Buy The Malahat Review:
The Bookshelf (Guelph, Ontario)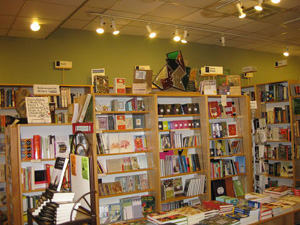 If you're ever in Guelph, be sure to check out The Bookshelf: it's a bookstore, cinema, and restaurant, all in one! Our Social Media, Marketing & Circulation Manager, PJ Grace, spoke with Bookshelf owner Barb Minett about one of Ontario's oldest indie bookstores.
Can you talk a bit about The Bookshelf, and its history as a bookseller? What's the scoop with the cinema and the restaurant?
Barb & Doug Minett started the Bookshelf in 1973 after visiting Britain and relishing all of the British bookstores. I was a teacher who knew that it wasn't really the correct profession for me, and Doug was a student who really needed to be an entrepreneur. Publishers told us that there were enough bookstores in Guelph.  After moving locations twice, we opened upthe first bookstore café in Canada in 1973. Then in 1980 we followed our passions and started what we still believe to be the only bookstore, café, cinema and bar in the world. Books, food, movie, and drink; What could be better?
What sorts of discounts come with having a Bookshelf membership? Do you find that these discounts help to draw in customers who might be more inclined to read digitally with electronic devices?
Our Bookshelf membership costs $15.00 for a year and gives the member 10% off books, $4.00 off movies and 10% off food. A member can have dinner and a movie for $20.00! I am sure that many of our customers do read ebooks, but it is obvious that many still love the "real" book. Sometimes people guiltily say that ebooks are great for travelling, but for the most part there is little discussion. I do think our membership makes people feel part of a family, and they feel that they are supporting something that is inherently good.
What literary magazines other than The Malahat Review are carried by The Bookshelf? Do the shelves represent journals on an international level, or is there more of a Canadian focus?
We have a great magazine and journal section. A few titles include Cantea, Feathertale, Lapham's Quarterly, and Granta.
As part of its 40th anniversary, The Bookshelf is holding a Fall Reading Series of writers, including the wonderful Margaret Atwood, to come and read their work. What were the criteria for choosing writers?  Does The Bookshelf host reading series often?
The Bookshelf hosts many readings. In October, we hosted or co-hosted Lawrence Hill, Maude Barlow, Andrew Nikiforuk, Stephen Henighan, Mary Swan, Charlie LeDuff and Deborah Cowley. November will be even wilder, with Stacey Fowles, Sean Johnston, Lyle Estill, Sally Armstrong, Catherine Bush, Michael Winter, Karen Connelly, Wayne Johnston, Mary Lawson, and Margaret Atwood. Something for everyone! Sometimes publishers approach us and other times we submit proposals.
Tell us about the different blogs linked through The Bookshelf's website. Who contributes to them? Do they serve as the primary virtual communicator with the public, or does The Bookshelf post news through social media, as well?
Very soon we will have a much more sophisticated website, but right now we have almost 400 contributors who actually read the blog. Also, our blogs are usually done by booksellers or guest bloggers. We have 3,000 twitter followers and 2,000 facebookers. Our social media is very active, and we do our best to help send other cultural happenings out to the world.
A hypothetical final scenario: I'm in Guelph for the weekend. Why should I visit The Bookshelf over other bookstores in the area?
You must come to the Bookshelf for a visit because you will really get an understanding of this great community. Many of the books that we have in stock have been suggested by our customers. We also have many quite highly recommended titles from our staff which constitute 200 years of combined bookselling!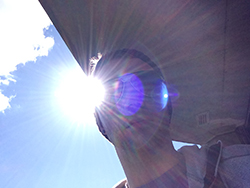 PJ Grace
* * * * * * * *