Past judge and contributor Emily Riddle talks with the Constance Rooke CNF Prize judge about research as physical presence, the importance of the process, and writing about the urban Indigenous experience.
ER: Often the nonfiction I like best comes from people who are also poets. Wënchikàneit Visions is a collection of essays, but poetic, experimental ones invoking the conventions of a Lenape Big House Ceremony. I often think Indigenous writers are best positioned to write beyond genre, with our stories spilling out against the conventions of Canlit. How do you conceptualize your relationship to genre in relation to your nation's history of storytelling?
DAL: Genre is often like every other box that the world likes to and attempts to squeeze things and people into. I get the need to have some talking points about a piece of work or otherness, but the simple fact is that nothing fits neatly in those boxes and categories. Because the categorization is fundamentally tied to colonial notions of identity. And this is important, this sort of categorization is really what has been holding so much of us First Nations. We fight over status cards, sacredness, being a "sell-out," who owns what. All of which might have kernels of truth buried within them, important truths at that. But the categorization is the issue. It sets up dichotomies, oppositions, which journalists and social media love. If writing and storytelling are the ways we dream of ourselves, but what we do in terms of talking about and creating work collapses into these dichotomies and hard categories, then we are fulfilling nightmares rather than dreams. Creation is fundamentally hybrid. As are our stories and reflections of it.
Read the rest of D. A. Lockhart's interview.



Jenny Ferguson,
Novella Prize winner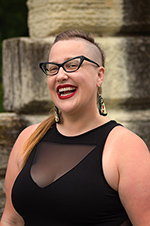 Managing Editor L'Amour Lisik talks with the Novella Prize winner about writing as revision, transforming a novel into a novella, and taking care of yourself in order to face rejection in the writing world.
LL: Congratulations on winning the 2022 Novella Prize! "Missing" is a rich and suspenseful story about friendship, love, illness, trauma, violent cops, and a missing Indigenous woman. The novella form is somewhat rare in the literary world. What drew you to this form for this particular story, and what made you choose to tell it in reverse chronological order?
JF: Ah, thank you! So funny story, for the longest time, I was actively opposed to calling "Missing" a novella. It was probably some novel snobbery. You know, novels are best and all that jazz. This novella is one of four intertwined narratives in an unpublished book about the Missing and Murdered Indigenous Women, Girls and Two-Spirit Human Rights Crisis. And when agents rejected that novel, I put the project aside for a long while. As in, I wrote "Missing" in 2015. So, it's been a minute.

Eventually, I realized that yes, "Missing" is a novella. Might do better as one. It's a very intense story, both in its subject matter, but also in the telling. It's a story that would be really heavy to approach in a full-length novel (and yes, that's pretty much how I see the novel-length project now—that for readers, especially for white readers, it's too much). But happily, the novella form is one where intensities are welcomed.

When it comes to the reverse chronological order, this choice underscores almost all the themes in "Missing." But, maybe, it's most important here: that Wendy (a white twenty-something woman with a recent terminal diagnosis) is too caught up in her own life, her new romance, her past and present traumas, to notice what changes in the months leading up to her best friend and roommate, Ida, a twenty-something Inuk-Cree woman's disappearance. The form is about the desire for hindsight, as if being able to see in that way would unlock missing evidences, would unlock the unknowable mysteries of our lives.
Read the rest of Jenny Ferguson's interview as well as an excerpt.