WordsThaw 2014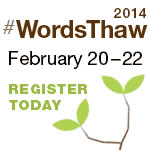 The Malahat's second annual symposium returns to the University of Victoria on February 20-22, 2014!

Cynthia Flood, Gary Geddes, Tim Lilburn, Daphne Marlatt, and Jane Munro are just some of the hightlighted panelists and writers who will be attending WordsThaw this year.
Visit our WordsThaw 2014 website for details on events, panelists, ticket information, and lots more!
WordsThaw Prequel Events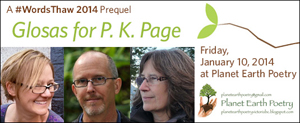 January 10, 2014, 7:30 p.m., in Victoria, B.C.
Moka House, 103-1633 Hillside Avenue

Join featured readers John Barton, Yvonne Blomer, and Sandy Shreve for the launch of A Crystal Through Which Love Passes: Glosas for P. K. Page. More information here.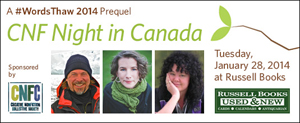 January 28, 2014, 7:30 p.m., in Victoria, B.C.
Russell Books, 734 Fort Street

Join featured readers Maleea Acker, Jay Ruzesky, and Madeline Sonik as they read from their latest works of creative nonfiction. More information here.
Catch Up with our 2008 Novella Prize Winner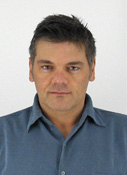 With our 2014 Novella Prize deadline just weeks away (February 1st!), Malahat volunteer Karen Bannister spoke with Andrew Tibbetts on his 2008 Novella Prize win.

KB: In your novella story, "Dead Man's Wedding," your protagonist is a young boy. In what ways do you think writing from that perspective shaped the story?
AT: This story isn't the first appearance of Simon Hebblethwaite. He's been very good to me! The first story I ever wrote, "Surprised We are Not," popped up out of nowhere in this character's voice. And it also won a contest! Well, 2nd place, in This Magazine's Great Canadian Literary Hunt of 2003. And it wasn't his last appearance either. He keeps popping into my head. Three further stories, "Fifteen Escaping Father Stories," "Nineteen Essays on my Mother's Nerves," and "The Hanged Man Café," have been published in The New Quarterly. He continues to bring me luck as TNQ nominated me for a few other prizes for these pieces. Recently Existere published a fourth, "Froth, with Razorblades," which didn't get nominated for anything, but hasn't made me love Simon any less.

Read the rest of Andrew's interview on our website.
Read full guidelines for entering the 2014 Novella Prize.
It's Here! A Look Inside Issue #185, Winter 2013

A Deserted Landscape: Karen Bannister in Conversation with Simone Littledale
KB: When I read your poem, "Huracan," I was immediately struck by the menagerie of animals throughout. Animals can be so symbolic. What roles do you feel these animals play in your poem? What do they mean to you? Are you able to reflect on their place in the narrative?
SL: Aside from poetry, my greatest obsession is animals, so naturally my work is full of creatures great and small. In this poem in particular, I tried to express the way in which the desert sort of consumes everything by showing the domestic animals like cows and goats just wandering around half-feral. I also wanted to show the richness of a landscape that, at a glance, might seem desolate and inhabitable though the wide variety of local fauna. In fact, next to the Amazon, the desert is one of the liveliest places I've ever been. In terms of straight symbolism, I invite the reader to glean whatever they like from each animal because it's very subjective. For example, to me, a vulture is a good thing; a sign of a healthy ecosystem. To others it might mean death or corruption.

Read the rest of Simone's interview on our website.

Al Purdy and Earle Birney Before Email: John Barton in Conversation with Nicholas Bradley
JB: What drew you to editing the correspondence of Al Purdy and Earle Birney? Can you give us a sense of how many letters they exchanged, over what time period, and what their areas of concern were?
NB: Letters are a strange genre—they begin as private documents and sometimes come to have a public life. But good writers are good writers, and poets' letters are almost always interesting. They often shed light on published poems and they are an essential source of biographical material. I have great admiration for Birney's poetry and Purdy's. Editing the letters appealed to me as a way of providing a context for the poems. But I didn't realize until I had started the project that the scale of their correspondence was so great. The poets wrote hundreds of letters to each other in a period of roughly forty years—from the late 1940s through the 1980s. There were times when they did not correspond very often, but for decades they wrote to each other with remarkable consistency. It's difficult to say precisely how many letters were exchanged. Not all of the extant letters have been catalogued and I assume that some letters have not survived.