Aaron Shepard
Member of Fiction Board
Aaron Shepard is a recent graduate of UVic's MFA Writing Program, and has a background in outdoor recreation management, forestry, fisheries and music. That is, he used to stumble around clearcuts with his brush-saw by day, and play drums in Kootenay taverns by night. He has served on The Malahat Review's fiction board for a little over two years. He's currently giving his first novel a final edit before sending it out, and getting antsy to start the next one.
Describe your ideal work of short fiction.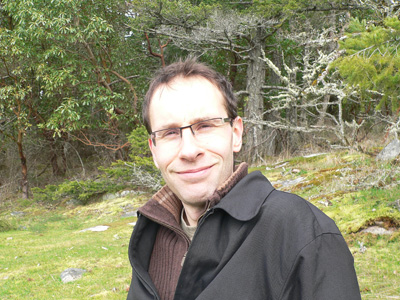 A great short story surprises and challenges me with its vivid, multifaceted imagery – objects or events that defy easy definition or categorization. The story should deliver an emotional impact in a subtle, almost accidental fashion: believable characters and understated relationships that sneak into your heart without being sentimental or earnest. I'm always amazed at the beautiful economy of great writing, when nothing is wasted, and every word helps build the central idea of the story. And I do like stories that aren't afraid of big ideas or themes, even though we're told, as writers, not to think about them too much.
What is your favourite (for the moment or all-time) short story?
There are a ton of stories I admire, including a lot of the usual suspects. But I'll go completely off the board and say "The Narrow Jet," by A.S. Byatt, which has been one of my favourites for a while now. It was in the Paris Review back in 2005, but has never been anthologized.

For starters, the level of detail is wonderful – she's not afraid to slow down and really paint us a picture, yet it never feels like she's showboating. Every rich detail contributes to the story's meaning in the economic way I mentioned before. The characters and the setting all seem mythical, as though out of a fairy tale, but contain such complexity that the obvious symbolic meaning of each thing – a fountain, a sculpture, a strange creature – is subverted, and the story's moral remains elusive. You sense that the author is still wrestling with the questions raised in the narrative.

In terms of conflict, the story is very low-key – two old men battling against time? Art vs the primordial? – so most of the tension seems to come from the relationship between the reader and the imagery. Finally, although "The Narrow Jet" is what I'd call an "ideas" story, its also about a friendship. I find the story both uplifting and comforting, and I keep re-reading it for that reason.
From the time you started on our fiction board, what has been your favourite pick?
"When in the Field with Her at His Back," by Ben Lof (Spring 2009, Issue 166). As part of my graduate coursework I volunteered to edit the story, which we don't normally do. By exchanging a few drafts with him, I got to watch characters and ideas change as the piece became more polished and tight. The emotion of Ben's story is wonderfully understated, despite a setting that's both dramatic and exotic. It went on to win the Howard O'Hagan Award for Short Fiction and to be nominated for the Journey Prize, so that was also a pleasure for me, knowing I'd played a very small role in the story's shaping.
What are you not seeing in submissions to The Malahat that you would like to see?
I see a lot of stories that are well-crafted, especially in one or two particular elements: there's a strong voice, or the dialogue is extra snappy, or the structure is fresh and startling. So there's skill, but not always a lot of heart. Writers seem to be writing about the things they feel they ought to be writing about, and not the things that obsess them. That is, a lot of stories are missing that sense of the writer wrestling or contending with something vital to him or her.  When we find a story that does have that sense of an author's struggle, we can usually tell. It's often the one that gets chosen – it just has that extra layer to it, that tendency to resonate long after it has been read.